What is the best cookie sheets?
There are a lot of different cookie sheet sizes and types out there, and no two are exactly alike. After considerable research, we decided that the award for best cookie sheets should go to the Nordic Ware Natural Aluminum Commercial Baker's Half Sheet because of its durability, resistance to rust, and ability to distribute heat evenly, ensuring you can achieve the desired consistency for your sweet treats, every time you fire up the oven.
It comes with ample surface area, giving you plenty of room to bake or roast your favorite deserts, meats, or veggies.
Light in color, this cookie sheet prevents food from over browning, and its oversized edge makes it easy to handle when getting it in and out of the oven-no worries about ending up with food all over your oven mitts.
Heavy-duty, it stands up well to high temperatures. The price is impressive, too.
---
Quick Navigation
10 Top Cookie Sheets: Our Picks & Recommendations
---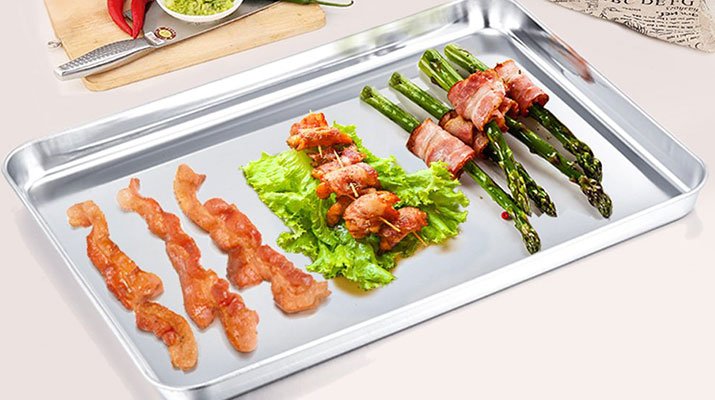 ---
How to Choose the Best Cookie Sheets?
It's an all-too-common scenario: You place a batch of your favorite cookie dough into the oven. After 10-2 minutes, you retrieve your freshly-baked goodies, only to discover that they browned unevenly, spread out too thin, or fell apart when you try to transfer them onto a plate with a spatula.
Before you blame your oven or assume that you didn't follow the recipe correctly, consider that the culprit may be your cookie sheet.
Here's what to look for when selecting the right cookie sheet so you don't "get burned" the next time you want to bake the most popular sweet treat in the US:
Size
Most baking racks in standard home ovens are 22 inches wide. The best cookie sheets are large enough to bake a sizeable amount of treats at once, but small enough to allow heat to circulate well for thorough baking.
For conventional ovens, we recommend the baker's half size of cookie sheet-13″x18-for best results.
Another advantage of the smaller cookie sheets is that they accommodate the width of parchment paper, so you don't have to trim off the edges or line up layers side by side.
If, on the other hand, you're a professional chef using a king-sized commercial oven, large cookie sheets will go a long way in helping you minimize the number of batches that have to be shuttled back and forth from baking corner to cooling rack or dining table.
In that case, 26″x18″ cookie sheets may be just what you need for your restaurant or bakery.
Material:
When it comes to material, you have four popular options to choose from: non-stick aluminum, carbon steel, and insulated. Here's what you need to know about each one.
Nonstick
This surface usually consists of a thin sheet of steel coated with Teflon. This variety of cookie sheet can be especially susceptible to warping, uneven heating and cooking, and scuffs.
The non-stick coating is prone to gradually peeling off, so these baking pans aren't known for having a long lifespan.
Coating chemicals can release gases at high temperatures, so cookie sheets made this way are not an ideal choice for those who are sensitive to toxins– or anyone who is especially concerned about looking out for their health.
Another caveat about nonstick pans: cookies may not spread out as well, resulting in a thicker cookie that's smooth on the bottom.
There are some advantages to nonstick surfaces though-you don't have to grease them with oil or cover them with parchment paper, and food slides off easily onto a spatula.
Aluminum
For the most part, aluminum cookie sheets are thicker and more durable than the nonstick type. This material heats evenly and is generally resistant to scuffing, but it must be kept out of the dishwasher, or blemishes and discolorations will begin to appear.
With aluminum, you'll need to cover the pan with cooking spray or parchment paper to keep food from sticking.
You can also use a fiberglass or silicone baking mat to protect cookie sheets-and food-and make clean-up unbelievably simple. Aluminum conducts heat more effectively than most other materials, except copper.
Because it cools down almost as quickly as it heats up, it's a popular choice for baking aficionados who make sure to waste no time in tasting their fresh-out-of-the-oven creation.
Carbon steel
This material is not the best heat conductor in conventional ovens, but it works well with convection ovens.
This type of steel is well-suited to making pizzas because, once they do reach the desired temperature, these cookie sheets retain heat effectively.
Insulated
Items on these types of pans take longer to heat up and bake thoroughly. However, insulated cookie sheets come in handy when you are preparing savory treats that are light in color, like shortbread.
They're also best-suited for drop cookies that are supposed to be soft in the center. Dough spreads out well on insulated pans.
Because they can trap water when soaking, these cookie sheets are more susceptible to rust, so bakers should hand-wash them and dry them thorough to make sure they're not holding excess H2O.
Color-Stick With Light
Dark pans warm up quickly, so they can make the food on them especially crispy. If you don't want that effect, lighter pans may be the right choice for you.
They heat up slowly to help you achieve the desired texture and appearance of your favorite sweet treats.
Similarly, a dull finish will lead to more even browning of your creations, while a shiny surface is best for baked goods that should not be brown on the bottom-shortbread, anyone?
Limit Raised Rims
Baking sheets are usually characterized by rimmed edges, while cookie sheets have no edges altogether.
Rimmed edges can prevent heat from circulating freely, creating uneven heat distributions, meaning your creations may be overcooked in some areas, while not cooked enough in others.
Rimmed cookie sheets often tend to be more durable and keep the food from spilling off, and rims give you something to grasp when moving the cookie sheets to and from the oven.
With large cookie sheets, the rims are less likely to get in your way. With the non-rimmed kind, it's easier to slide delicate food off the sheet.
Keep It Sturdy
Cookie sheets should be rigid and durable enough not to warp in the oven. Sometimes they can have difficulty holding up at temperatures over 450F.
Warping can cause dough to become distributed unevenly, preventing parts of the food from cooking all the way through, while others are overdone.
To be considered sturdy enough, cookie pans should also be easy to lift in and out of the oven with a minimum of bending or flexing.
Versatility
Technically, you can use cookie sheets for so much more than just baking dropped or cut-out sweet treats. Cooks sometimes use them for sheet cakes and brownies.
People use cookie sheets for roasting vegetables, or to brown a rack of spareribs, choice piece of chicken, or succulent cut of steak.
You can also use them as drip pans or to provide extra support under another baking dish. Consider what you want to do with your cookie sheets.
Depending on how much time you spend in the kitchen, your best bet may be to get a multi-pack that contains either several same-sized sheets or baking trays of several different sizes.
If you also need to conserve space, consider something that is stackable, compact, or otherwise easy to store.
If you frequently have to prepare large batches or transport food from one place to another, disposable or lightweight reusable trays may be just what you need.
---
10 Best Cookie Sheets Reviews
We looked at hundreds of products and pored over customer reviews. We understand that, while it's important to do your research before making a purchase, you may not have a lot of extra time to look up all the products and compare prices. We did the research and broke it down, so you don't have to.
The customers we read reviews from included everyone from the occasional home cook to the professional chef. We sought out cookie sheets that met our strict criteria for durability, maintenance, and ease-of-use.
Some were high-quality enough to be used in commercial kitchens as well as at home. We tried to include a diverse selection of options-for instance, disposable pans and restaurant-grade ones-to offer something for everyone.
We also looked at the pros and cons of each product to make sure the ones we highlighted offered the most value for your money.
There are considerable variations in terms of quality, even among similarly-priced cookie sheets. The best cookie sheets were those that performed especially well and came with a modest price tag. Here they are:
---
Best Cookie Sheets Overall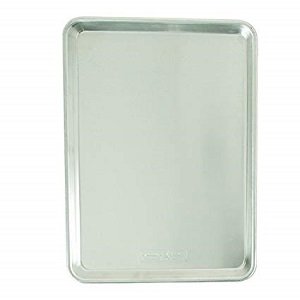 What You'll Love: Nordic Ware is a respected name in the realm of bakeware, and these cookie sheets came out on top because of their all-around five-star quality.
The Nordic Ware Natural Aluminum Commercial Baker's Half Sheet got the gold medal in terms of best cookie sheets because it's rust-proof and so durable that you shouldn't have to replace it for a long time, if ever.
Constructed with optimal heat conductivity, this cookie sheet allows baked goods to rise and spread out evenly, while its light color keeps cookies from coming out too dark.
Your average, everyday cookie sheet is likely to be prone to warping, especially when exposed to high heat. This item has a reinforced encapsulated steel rim to prevent warping, even when placed under the broiler.
This baking tray is designed to maintain maximum rigidity and balance, so your cookies can keep their intended shape and thickness as you move them in and out of the oven.
The pan's large surface area allows you to place plenty of food on it, whereas with the smaller variety you would need to make several, smaller batches.
This baking tray is available in several sizes: big sheet, half sheet, jelly roll pan, and quarter sheet. High-quality enough for commercial use, this superior cookie sheet also makes an excellent addition to any home kitchen.
Pros:
It is especially durable. Because it can withstand temperatures higher than 450F, many customers use this baking sheet to roast vegetables and other foods besides cookies.
It has a vast surface area and is sturdy enough to last for years. You can pick the tray up with one hand without worrying about it bending or flexing.
Cons:
It's a little higher-maintenance than dishwasher-safe cookie sheets in that it needs to be hand-washed. However, it is made to be easy to clean.
Be sure to read the instruction on how to take care of it, or it can become damaged not long after you begin using it.
Who It's For:
This is an especially good choice for home chefs looking for a well-designed versatile cookie sheet for all their baking needs.
---
Best Budget Cookie Sheet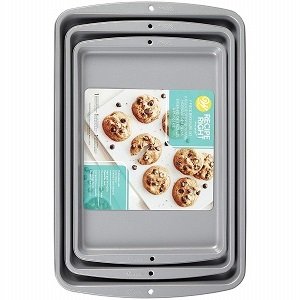 What You'll Love: These cookie sheets deliver a level of quality you might not expect, considering their modest price.
If you're like a lot of us who don't want to spend too much money on kitchen items, you can get a pretty good bang for your buck with the Wilton Recipe Right 3 Piece Cookie Pan Set.
These heavyweight, warp-resistant steel baking trays come in three sizes-13-1/4″x9-1/4″, 10-1/4″x15-1/4″, and 17-1/4″x11-1/2″-so you can prepare different types of foods on a large surface area.
Dimensions are embossed on each pan to remind you what size you're using.
They're made to allow for even heating and come with non-stick surfaces, making clean-up a snap. (Although they are dishwasher-safe, it is recommended that you hand-wash them).
These cookie sheets are equipped with handles, so they're easy to get in and out of the oven. (This is especially a plus when you have raw cookie dough or soft, freshly-baked cookies close to the edge, as without handles you can easily end up getting dough stuck to your fingers or an oven mitt).
Pros:
Many customers used these for extra support under a pie pan or other baking dish to prevent contents from spilling over into the oven while baking. Having three trays of different sizes gives you options.
Many customers cited the modest price as a plus in and of itself because these cookie sheets delivered better results than they expected from similarly-priced products.
Cons:
Some customers reported that these pans warped under high heat, but the damage was only temporary. Pans could usually be straightened out once they cooled.
A few people also reported that the cookie sheets stain easily, but you can maximize their longevity by covering them with parchment paper or greased foil before placing food on them.
Who It's For:
If you need to stock a kitchen on a budget, these cookie sheets are a smart choice. They're also handy if you're looking for something that offers versatility, as this 3-pack can be used for a wide variety of purposes.
---
Best Aluminum Cookie Sheets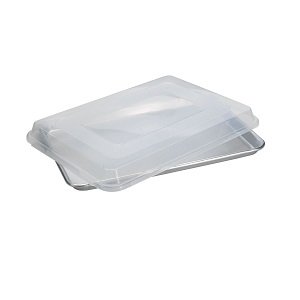 What You'll Love: This cookie sheet comes with a cover for convenient storage and can be used in home and commercial kitchens alike.
Our first choice is the Nordic Ware Natural Aluminum Commercial Baker's Half Sheet with a Lid because of its stellar quality and ease of use.
One bonus that stood out for us is that it actually comes with a lid-great for covering cookies and other foods to maintain their freshness and texture, or to keep messes to a minimum when transporting food from one place to another.
Like other Nordic Ware cookie sheets, these are designed for exceptional heat conductivity, so your food will brown evenly. Reinforced encapsulated steel makes these baking pans especially sturdy and resistant to warping.
Despite its behemoth dimensions (13″x18″x1″), it fits in most conventional home ovens.
Because it's made of natural aluminum without a finish that could potentially come off on the food, it's an ideal, health-minded addition to any chef's kitchen-home or commercial.
Pros:
This cookie sheet is built for durability and longevity, it cooks evenly, and comes with a lid for easily storing and transporting food, and even stacking sheets on top of each other to save space.
Cons:
If you're looking for something that requires virtually no effort to clean, you may be disappointed to learn that reviewers recommend that you do not put these cookie sheets in the dishwasher.
Harsh detergents cause discoloring. Would-be buyers should also know that while the lid is good for storage, it does not seal the pan.
Additionally, because the lid is plastic, it's not rigid, and some customers reported having difficulty snapping it onto the cookie sheet securely.
Who It's For:
This cookie sheet is for busy chefs of all skill levels who need to be able to easily store and transport their food.
---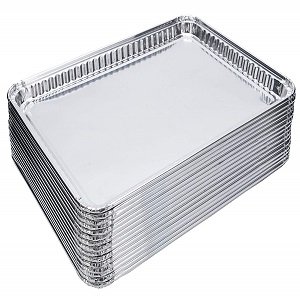 What You'll Love: Durable, disposable baking pans come in multi-packs, so you won't run out of them right away, and the hassle-free clean-up involved seems too good to be true, but this item delivers as promised.
Our second pick for best aluminum cookie sheet is the DOBI (15-pack) Disposable Aluminum Baking Sheets.
Perfect for back-to-back baking or cooking for a crowd, these cookie sheets are durable and designed to heat evenly, so you don't have to worry about uneven browning of cookies, and your pizzas will come out with smooth crusts.
The sheets give you a wide surface area (16″x11″), so you have plenty of room for your favorite meats, veggies, or sweet treats. Bottom support helps pans maintain rigidity when you're lifting and transporting them.
The best part? There's no clean-up. You can just toss the cookie sheets when you're done with them.
Made out of recyclable aluminum, they're Eco-friendly, so if you're trying to cut down on your carbon footprint, these baking pans are the way to go. And you get a lot of them for a great price.
Pros:
There is no clean-up. These best cookie sheets are large enough to accommodate sizeable quantities of food. Getting 15 baking trays in one pack gives you a steady supply.
Superior heat conductivity means your food will brown beautifully. Because they're disposable, they can also be used as drip pans. They're also good for cooking on the grill.
Cons:
Since they are disposable, they are not as sturdy as reusable cookie sheets. Customers recommend either doubling them or making sure to use your hands to carefully balance them when getting them in and out of the oven.
Who It's For:
If you prepare food that needs to be made in bulk and/or transported, these disposable cookie sheets will be an ideal solution to your baking needs.
---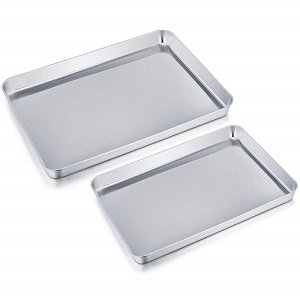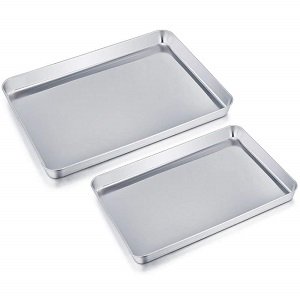 What You'll Love: If you're Eco-conscious and like to use natural materials for cooking, these cookie sheets are a hassle-free solution.
If you want to find the best stainless steel cookie sheets, look no further than the TeamFar Baking Sheet (Set of 2).
They're made of superior 18/0 magnetic steel. Some lesser-quality cookie sheets have finishes that, over time, can begin to flake off onto your food.
Team Far sheets have no coating, so there are no toxic chemicals to worry about. Deep rims allow the trays to hold large quantities of food. Rust-resistant, the stainless steel cookie sheets are sturdy and durable.
Their mirror finish minimizes the risk that food will stick to the trays. Smooth edges make them easy to handle. Clean-up is a breeze, too. because Team Far pans are dishwasher-safe.
Pros:
Cookie sheets are made of natural materials for a healthier cooking experience. Smooth edges make for easier handling-and cleaning, since they don't create the food traps that rough edges can.
Plus, you can throw these pans in the dishwasher. They're large enough to prepare considerable amounts of food.
Not only are they good for baking and roasting, but you can use them as serving trays for salads, sandwiches, and other tasty tidbits.
Cons:
They are not entirely non-stick, so you should still be sure to use cooking spray on them. Some customers also complained that these pans warp easily under high heat.
Who It's For:
These cookie sheets are good for busy chefs looking for a versatile, low-maintenance cookie sheet.
---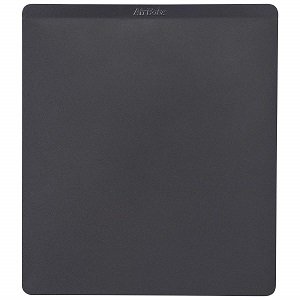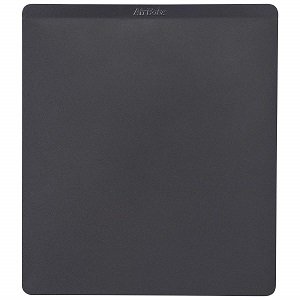 What You'll Love: These non-stick cookie sheets heat evenly to reduce cooking times while increasing the quality of your favorite baked goods.
It can be difficult to find cookie sheets that are highly-resistant to sticking, but we found one: the AirBake Non-Stick Cookie Sheet. It's air-insulated and constructed with heavyweight aluminized steel to prevent burning.
The bottom layer of metal blocks direct heat from the oven, while the layer of air prevents the top layer from overheating. Designed with Micro-Dome technology, this cookie sheet reduces baking times by 15%.
How does it work? Each cookie sheet is actually made up of two pieces of aluminum steel that surround a layer of air.
The air reduces the temperature of the metal that touches the food, making burning less likely. At 16″x14″, these baking trays can accommodate large quantities of food.
Pros:
Food is less likely to stick to the cookie sheets, and they give you plenty of surface area to work with. Cookie sheets allow for even heating with minimal likelihood of burning.
Cons:
Air insulated trays are designed to "breathe" and are not watertight, so users need to be mindful of how they care for this item.
While these cookie sheets can be placed in the dishwasher, they're not compatible with detergent tabs; the chemicals contained within are too harsh.
Also, these cookie sheets should not be left to soak, or water will become trapped between the layers of metal. During heating, the water can produce steam that could contribute to burning.
Who It's For:
The AirBake cookie sheet is for chefs looking for something to help them expedite their baking and perfect their culinary craft.
---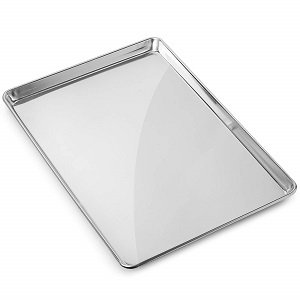 What You'll Love: These versatile cookie sheets find their place wherever you decide to put them to work.
If you're looking for a three-quarter cookie sheet that's good enough for a restaurant kitchen but can also be used at home, consider the GRIDMAN 15″x21″ commercial-grade Aluminum Cookie Sheet Baking Tray.
Safe for your freezer, oven, or display case, these cookie sheets allow you to bake quickly. Designed to ensure even, thorough heating, this item makes it possible to achieve your favorite cookie consistency without over browning.
It also cools quickly, so you won't have to wait long to begin enjoying your favorite baked goods. Easy to lift and carry, these baking pans are incredibly lightweight.
They hold large amounts of food, too, so they're especially convenient when you're cooking for a crowd.
Galvanized wire edges are warp-resistant and help the pan stay flat and rigid. Made of 18-gauge commercial-grade aluminum, these cookie sheets are built to last.
Pros:
Customers rave about the size of this pan. What usually requires 2 pans can be done in one large batch with these cookie sheets.
They are easy to clean and can be used for a variety of purposes-on the grill, in the oven, or even in the freezer.
Cons:
Some customers complained that the pan was not as sturdy as they had anticipated it would be, although this certainly wasn't the case for all buyers.
If you're looking for something that doesn't require any maintenance, here's a heads-up: customers highly recommend that this cookie sheet should be hand-washed rather than placed in the dishwasher.
Who It's For:
Home and restaurant chefs looking for something highly durable and versatile.
---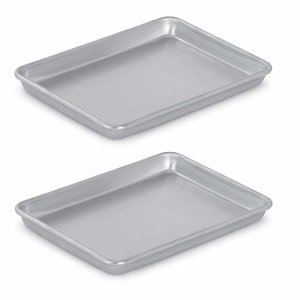 What You'll Love: These conveniently-sized cookie sheets allow you to cook your favorite foods to perfection
The Vollrath (5220) Wear-Ever Collection Quarter-Size Sheet Pans are sturdy and durable. Made of 16-gauge aluminum, they're commercial-quality and heavier than standard bake ware.
The cookie sheets' light color prevents over browning, and their aluminum construction allows for even heat distribution, so cookies and cakes rise just the way they should.
Galvanized reinforcements prevent rusting and warping, so you can expect these baking pans to last a long time.
This compact cookie sheet also features a stackable, tapered space-saving design, so it fits well just about anywhere, especially on a baker's rack.
Pros:
These cookie sheets are professional-grade and are made to withstand years of use.
Their size makes them easy to take in and out of the oven and allows for easy storage when they are not in use. They cool down quickly when you're done baking, too.
Cons:
This bakeware is handwash only, so clean-up requires a little more work than just throwing it in the dishwasher.
Bakers should be sure to use a non-abrasive pad to clean these cookie sheets, or they may become damaged.
Who It's For:
This is ideal for frequent bakers or those with small kitchens who want to make the most of available space.
---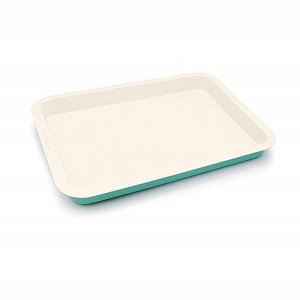 What You'll Love: If you're looking for an alternative to conventional steel-surfaced cookie sheets, these are highly durable and an attractive addition to your kitchen.
If you prefer not to have metals in contact with your food, ceramic is another option to consider.
We discovered that the GreenLife Ceramic Non-Stick Cookie Sheet took first place as a healthier baking option.
Made of durable steel with a non-stick, ceramic coating. it is free of PFAs or PFOA. Oven-safe up to 450F, these cookie sheets are made for even heat distribution.
The ceramic surface allows your food to come out extra crispy. With its turquoise tint, the cookie sheet has an attractive appearance.
Pros:
Customers like the look of this cookie sheet. As long as you follow the care instructions, clean-up is relatively easy; It's durable and not prone to flexing or bending, and allows for even heating.
Cons:
This cookie sheet can only be washed by hand, making it a little higher maintenance than the dishwasher-safe variety. Water may get trapped in the rolled edges and cause rust.
Some customers complained that the ceramic coating is rather thin and prone to scratching or chipping, especially when using metal utensils on it.
Who It's For:
looking for a stylish piece of bakeware that holds up well to frequent use.
---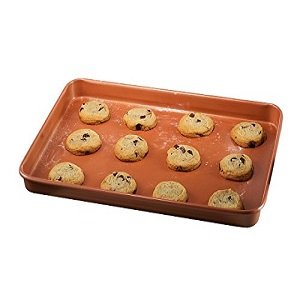 What You'll Love: Copper ranks as a superior heat conductor, above all other materials used in cookware, so this cookie sheet won't disappoint when it comes to even heating. It also provides a non-stick surface that requires little, if any, seasoning before you place food on it.
Copper has a lot of uses, and what many people don't know is that it's also good for baking, especially if you have a Gotham Steel Non-stick Copper Cookie Sheet and Jelly Roll Baking Pan on hand.
Made with a Ticerama (a combination of titanium and ceramic) coating, these pans are extremely durable and so non-stick that you don't need to apply much, if any, oil or butter to baking surfaces.
And you don't have to worry about your food coming into contact with harsh chemicals-this copper bakeware is free of PTFE/PFOS and PFOA.
The dimensions of the baking tray (12″x17″) make it ideal for a variety of uses besides baking cookies, such as roasting meat, vegetables, and fish.
It's oven-safe up to 500F, so you can even stick it in the broiler. It's scratch-resistant, so you can use metal utensils-like a pizza cutter-on it without damaging it. One more bonus: it's dishwasher-safe.
Pros:
Its non-stick surface means you don't have to season it, and food slides off easily.
It's healthy and eco-friendly-no questionable chemicals to worry about. This best cookie sheet is designed for durability and longevity, and it's easy to maintain.
Cons:
A few customers noted problems with warping or uneven heating, and a handful of reviewers said that copper surfaces gradually became less stick-resistant after each use.
Who It's For:
This copper cookie sheet is a good choice for anyone looking for chemical-free bakeware that's low-maintenance and lasts a long-time.
---
Related Articles:
---