Whether you are looking to replace your old ream-style juicer or are looking for a faster way to squeeze juice from lemons, limes and oranges, only the best citrus juicer will do!
With a large variety of both manual and electric versions on the market, it can be challenging to find the one that provides all the power you want while working with your decor and lifestyle.
We've gathered together some of the top buys and created a best citrus juicer buying guide and product reviews to help you make sense out of it all.
Quick Navigation
The Most Recommended Citrus Juicers: 10+ Best Reviewed
What Does A Best Citrus Juicer Do?
Citrus juicers are designed to press the pulp from fruits like grapefruit, lemons and limes into juice.
They have a dome-shaped reamer at the top that you place a halved fruit on. Then either through use of a manual press or an electric motor, the juice is literally squeezed into a waiting cup or pitcher.
Unlike juice extractors, these are not designed to take an entire fruit or vegetable and blend them down into juice for your healthy juicing regimen.
Citrus juicers are intended for creating that classic glass of OJ with your breakfast or squeezing fresh juice for your mixed cocktails.
How To Choose The Best Citrus Juicer
The first thing on your list to consider is do you want a manual or electric version? If you are squeezing one or two limes or lemons to help add a little bite to your cooking, a manual press will work fine.
For juicing larger quantities and to extract more juice from the fruit, an electric model will more consistently produce the juice you are looking for.
However, not everybody has an endless collection of power outlets in their kitchen and one more gadget to plug in can seem more of an inconvenience.
Some manual juicers are mechanical presses that stand rather tall, making them awkward to store on a countertop, but are constructed out of indestructible cast iron–perfect for juicing at a farmstand or fine restaurant.
Many electric versions are squat and will slide right to the back of your counter or into an appliance garage with no fuss. Of course, the more often you want to use it, you'll look for a machine made out of durable parts by a reputable manufacturer that backs up their product.
The Most Recommended Citrus Juicers: 15 Best Citrus Juicer Reviews By Sujana Marie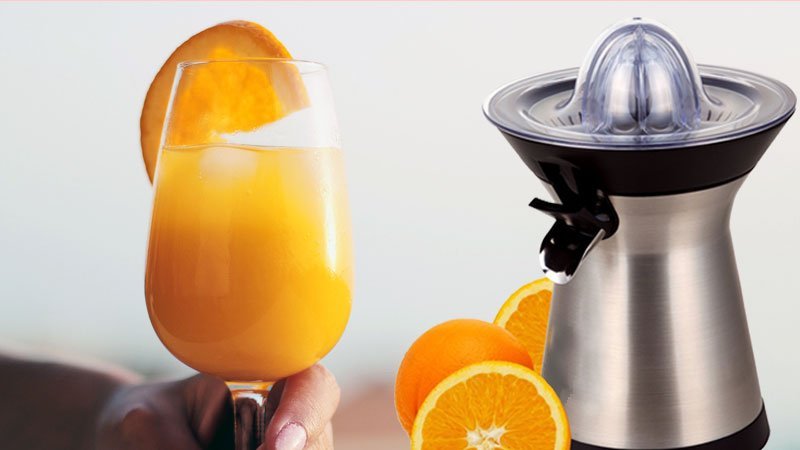 1) Epica Citrus Juicer Review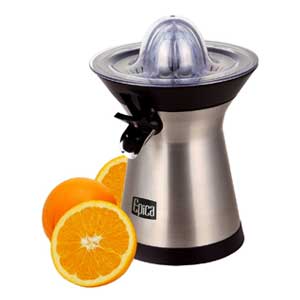 For a more contemporary appearance, you can select the Epica. It features two sizes of reamers, better able to accommodate small limes and large grapefruits.
This citrus juicer has a fairly quiet motor, so won't interrupt your family's breakfast chatter.
Simple construction comes apart in a minute and parts can be tossed in the dishwasher for easy cleaning. It has no pulp screen, so doesn't clog, but you will have pulpy juice unless you strain it again.
It is activated by pressing down on the fruit making it intuitive to operate. An extremely popular model, you may have difficulty finding one in stock!
2) Gourmia GCJ200 Electric Citrus Juicer Machine Review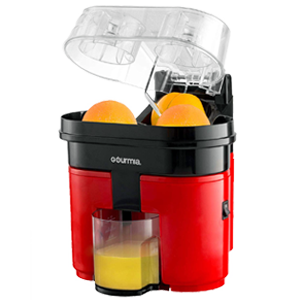 A direct competitor with CUH, this double juicer/slicer will prep your fruit while its motorized reamer extracts the juice from the two halves it already cut.
The price is competitive, but Gourmia created them in designer colors to better accent your decor palette.
With its eye-catching appearance and fun operation, it's a great addition for your poolside bar or basement rec room when mixing up a pitcher of margaritas.
It does all the work for you. Just close the lid and it turns on. Very durable, it's a very good unit for the price. But remember, larger fruits won't fit under the dome.
A big bonus is that you don't have to press down on the fruit to operate the juicer, the motor engages when the lid closes.
3) New Star Foodservice Commercial Citrus Juicer Review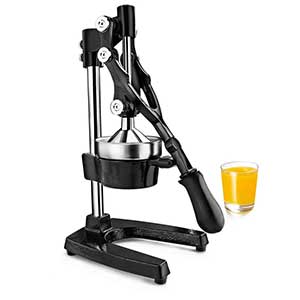 Not everybody wants to plug in their juicer. This manual press will squeeze endless quantities of citrus without ever needing a break. Some of the small home electric juicers will overheat after continual use.
With a wide foot, this unit is pretty stable. Long lever gives you plenty of extra power when pressing the fruit. Made out of cast iron with suction cups on its feet, it will not break and ought to stay in place.
Reamer dome comes out for easy cleaning. It does not come with a pitcher, you'll need to find one that fits between its legs. You'll want to have a space reserved for the unit as it is fairly heavy and awkward to move.
4) Breville Citrus Juicer 800CPXL Review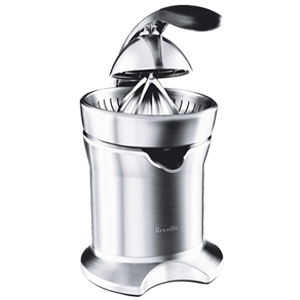 This sleek stainless steel unit looks like it belongs in your favorite coffee shop with its commercial appearance. And you do pay for that wow factor with a much heftier price tag.
However, if you're pumping through bushels of oranges, its handle presses the fruit onto the one-size reamer which turns on the spinning motor for fast and efficient juicing.
You'll fly through the pile of fruit in no time at all. For those with arthritis, the handle helps by relieving the stress created by trying to hold a piece of fruit onto the reamer while the motor does most of the work.
It stands about one and a half feet tall plus you'll need room to move the handle up and down, so it takes more space than other units. It really combines the idea of a manual press with the efficiency of an electric, but at four times the cost of any other model out there.
5) Black and Decker Electric Citrus Juicer Review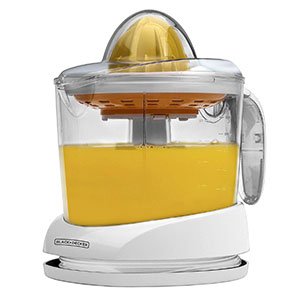 If you are juicing on a budget, this small unit will fit perfectly into your apartment and lifestyle.
The pitcher is incorporated into the body of the unit, making it a one-stop-shop for squeezing, storing and serving your juice.
The pitcher holds up to a quart of juice, so enough for several glasses of that golden liquid. Squat size takes up almost no counterspace while it'll slide inside a drawer or cabinet with little fuss.
Like many kitchen appliances priced at this level, don't expect it to squeeze a gallon of juice every single day. You will have to press the fruit onto the reamer, so a little muscle is needed to net good results.
6) CUH 90W Electric Citrus Juicer Review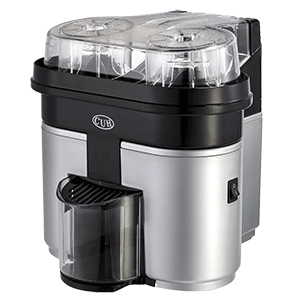 This unique citrus juicer will slice your fruit for you while it is juicing two other halves at the same time!
For a little extra cash, you get the fun of operating this machine while producing delicious juice quickly and quietly.
The reamers are really one-size fits most but are a little too small for many of the larger oranges and grapefruits.
Place a full fruit in the middle and the two halves over their reamers, then close the lid and it takes care of the rest.
It has a small collection bin at the bottom that's only 8 ounces, so you'll need a larger glass to pour your juice into for serving. Less than a foot tall and wide, it'll fit onto your counterspace with no problem at all.
7) Black and Decker Electric Lemon Juicer Review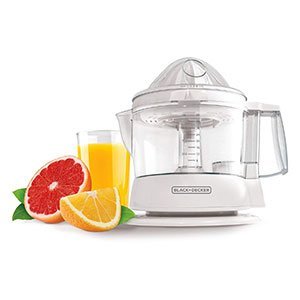 This citrus juicer built with a lower power motor, the CJ630 offers the same design as their "orange" juicer but without all the muscle.
Offered in crisp white, it'll fit on your counter, in a cabinet or even in a deep drawer.
The 20w motor offers enough power to take care of lemons, limes, and the thinner skinned oranges without fuss. The reamer will fit grapefruits, but you may struggle to get the unit to extract all the pulp out of them.
Its low price makes it an attractive purchase for the health-conscious newlyweds or recent graduate moving into their first place. Its 32 oz built-in pitcher offers convenient juicing, serving and storage in one.
8) Juiceman Citrus Juicer Review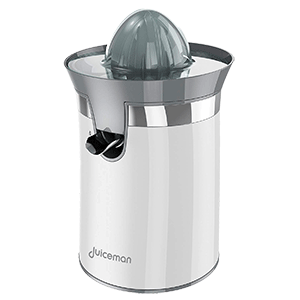 Juiceman created their compact cylinder to fit into small kitchens. It has a simple design–place your fruit on top and press down.
It has a dispensing chute that you need to place a small glass underneath to catch the good stuff. It can't be a tall glass, as the chute is only about 6 inches above the counter.
Simple to take apart and clean, it's a great addition to your kitchen. Some users have commented that its cylinder-shape and size means it tends to walk about while juicing.
Sleek white and polished metal appearance makes it the perfect addition to your contemporary all-white prep area. Low price means you really don't pay extra for that catchy name.
9) Cuisinart Citrus Juicer CCJ-500 Review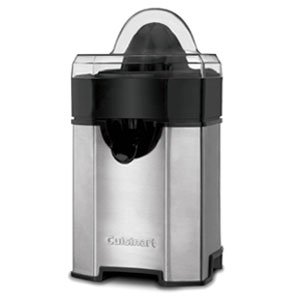 For serving a jug of fresh squeezed juice with your Sunday brunch, Cuisinart has crafted the CCJ-500. An electric model, it is easy to operate.
Place the halved fruit on the reamer, close the lid and press a button. Juice is dispensed out the front of the unit into your glass or small pitcher while pulp is carefully screened.
This citrus juicer features a low purchase price and attractive black and stainless steel appearance, ready to complement your modern kitchen decor.
Built for the occasional use, it will serve you well without emptying out your wallet. But you should expect to replace the unit in a few years as the plastic chutes and hinges are susceptible to cracking over time.
10) Commercial Juice Press Citrus Juicer Review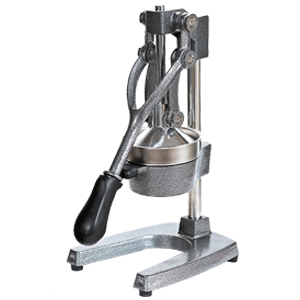 Designed to press oranges and grapefruits in a commercial setting, this unit is built out of cast iron meant to last for decades.
The manual handle exerts 2,300 psi of pressure on the fruit, turning it into juice quickly and with little effort.
There are no motors to burn out or plastic bits to crack. The stainless steel reamer can be put into the dishwasher.
The height is not adjustable, so you'll need to find a small cup to collect the juice which is a distinctive drawback. Not particularly attractive, it'll look right at home in a restaurant kitchen or roadside farmstand.
11) Proctor Silex Juicer 66331 Review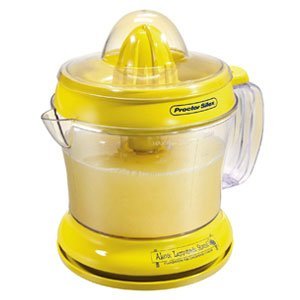 Lemonade, anybody? Proctor Silex worked with Alex's Lemonade Stand charity to help support research for curing childhood cancer.
This compact electric citrus juicer has a built-in 34-ounce pitcher great for juicing, serving and storing your efforts. The simple design means you just press down and it's making juice.
Colorful exterior speaks of summer afternoons and neighborhood lemonade stands. Two reamer sizes work well with small limes up to jumbo grapefruits.
Meanwhile, you'll feel even better while drinking your healthy juice knowing a dollar for every unit sold went directly to the Lemonade Stand charity.
It's also reassuring to know that Proctor Silex stands behind their products and provide excellent customer service for any questions or problems.
12) Westinghouse WJC1BGA Electric Citrus Juicer Review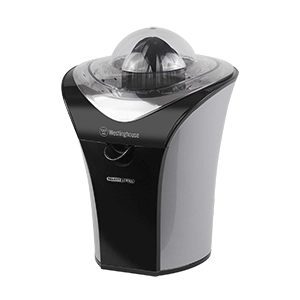 For your healthy workplace environment, this sleek unit speaks of elegance with its shapely silhouette and sensible tech black finish.
Perfect to position in the lunchroom of your office, or on the breakfast bar for clients to enjoy a nice juice in your waiting room.
The pleasant surprise here is that it's priced to fit into your home, adding to that sleek, industrial finished appearance of your loft.
Pop up the top, press the fruit down on the reamer, and you're in business. Provide your own glass to catch the juice as it is dispensed.
13) Best Choice Pro Commerical Manual Citrus Juicer Review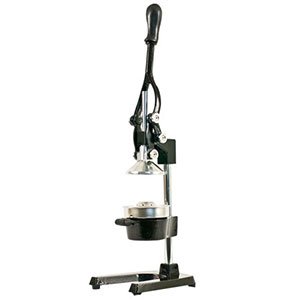 If you're looking for the durability of a commercial juicer, but would like to save a few dollars, Best Choice put together one with cast iron and stainless steel construction that will help protect that bottom line.
Simple lever press action ensures consistent juicing with each fruit. Able to accomodate most oranges up to grapefruits, you'll be cranking out plenty of delicious juice to add to recipes or adorn your breakfast buffets.
A great option for B&B's, farmstands or other food service locations looking to add fresh squeezed juice to their menu.
14) Royal Manufacturers Citrus Press Juicer Review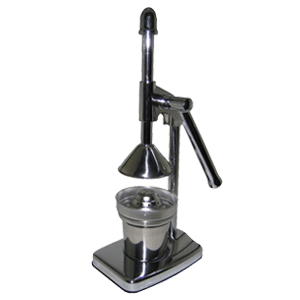 For open kitchen applications, or for your chef-quality home kitchen, the Royal looks absolutely stunning with its polished stainless steel finish.
Built along the same lines as commercial units, but constructed out of lighter components, it uses a manual lever system to juice your fruits.
The included stainless steel collection cup provides that sleek appearance owners of a new contemporary home will appreciate.
It is nearly two feet tall, so not the easiest item to store, but with that polish you'll want to display it. If you are providing enough juice for your breakfast, it'll provide all the durability you need at a reasonable cost.
15) Tribest Citrus Juicer CS-1000 Review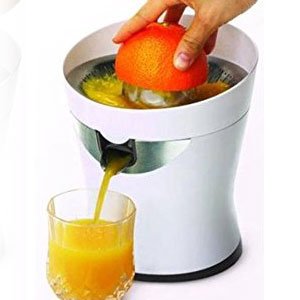 Tribest built one juicer, and did it well. While you pay a little bit more for this unit, it has built a reputation as an extremely reliable juicer that's easy to clean and use.
Compact size makes it easy to store on your counter or in the cupboard. Two reamer sizes accommodate small limes up to large grapefruits.
Fine screen eliminates almost all the pulp while it dispenses fresh juice directly into your glass 12 ounces or smaller. Press down on your orange and watch it go into action.
The manual recommends taking breaks when juicing large quantities to prevent overheating, but users don't find that it needs the rest even when working through an entire bag.
The manufacturer added a sexy hourglass shape to the unit for a contemporary and fun appearance.
---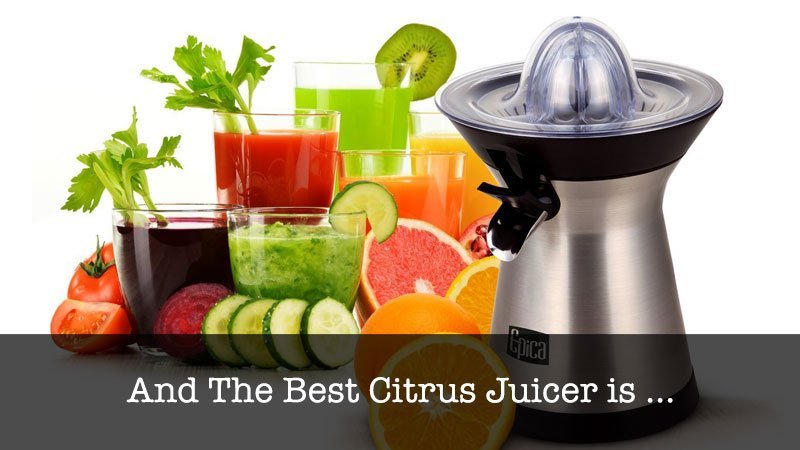 So, Which Is The Best Citrus Juicer?
For a durable little workhorse, the Epica Citrus Juicer enjoys a blemish-free reputation among juicing enthusiasts. While you pay a little extra, its simple design that's super easy to use is ready to tackle your daily juice demands without a blink.
For a fun addition to your poolside bar, check out the Gourmia GCJ200 Electric Citrus Juicer Machine for a colorful splash against your countertop. Smart self-cutting and juicing design adds another level to your juicing time without added cost.
Finally, if you are turning your orchard of fruit into juice, check out the New Star Foodservice Commercial Citrus Juicer that'll stand up to any abuse you dish out. You may be able to leave the cast iron unit to your children.
We hope you enjoyed reading our best citrus juicer buying guide and product reviews. It they helped you make a decision about the next electric or manual citrus juicer for your home or business, we hope you'll leave a comment below with any additional insights you may have. Or share our column on your social media pages and talk with your friends about your thoughts.
---
Related Articles