What Are the Best Cereal Bowls?
When searching for the best cereal bowls, there are factors to consider and characteristics to look for such as cost, versatility, ease of cleaning and more. Considering these important factors, we ultimately chose the Corelle Soup/Cereal Bowl Set as our top pick. The Corelle Soup/Cereal Bowl set offers lightweight durability at a great price.
---
Searching for the bestt cereal bowls is a bit more daunting than it may sound. Some may think that a cereal bowl is just a cereal bowl and any bowl will do, but there are actually factors that need to be considered such as price, materials, versatility, durability, ease of cleaning, the users, and more to get the right cereal bowls for you.
Though there are definitely cheap cereal bowl options, if they wear out, break, or tear too easily, are they really worth it? Stainless steel and heavyweight plastic bowls are some of the best options for durability.
You must also consider who is using it: just adults, kids, or a combination. You do not want to give a child a bowl that is too heavy or that can easily tip over.
Also, will you just be using it for cereal or do you generally use your bowls for multiple food items? Not all bowls can stand up in all conditions.
As you likely see, going into your local store and picking up a random bowl will not do the trick. Put a little thought and consideration into your choice so you do not regret it later.
---
Quick Navigation
5 Top Cereal Bowls: Our Picks & Recommendations
---
5 Best Cereal Bowl Reviews:
In our search for the top cereal bowls, we analyzed the reviews and opinions of experts and buyers. Out of all the options we sifted through, we were able to get our list down to the following five cereal bowls based on durability, price, versatility, and ease of cleaning.
---
Best Overall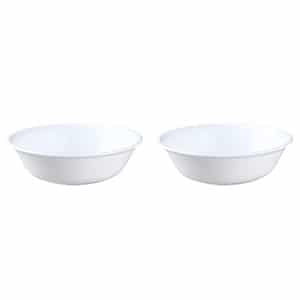 What You Will Love: These bowls are made with three layers of Vitrelle glass for durability.
This Corelle Soup/Cereal Bowl comes with six winter frost white bowls that are dishwasher and microwave safe.
The three layers of Vitrelle glass are lightweight and yet very durable. They are thin, nonporous, easy to clean, and space efficient.
Though they are break and chip resistant, buyers state that when they do break, they shatter into many pieces. This means that if one breaks, you will need to clean thoroughly to make sure no pieces cut little feet.
Pros:
Made with three layers of durable glass
Thin, nonporous
Dishwasher and microwave safe
Set of 6 for a very good price
Easy to clean
Space-efficient
Lightweight, break and chip resistant
Cons:
If it breaks, you will have a lot of cleaning to do
---
Best Budget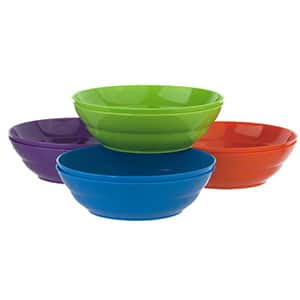 What You Will Love: This set comes with 8 bowls that are made with unbreakable polypropylene plastic.
The Sonoma heavyweight plastic bowl set comes with 8 bowls in 4 different colors. They are BPA free and can be washed in the dishwasher on the top rack only.
The set is stackable for storage efficiency, great for kids, and is a really reasonable price typically ranging between $10 and $15. The only downside is that they are not good in the microwave.
So though you can use them as pasta bowls or soup bowls as well as cereal bowls, do not use them to heat things up.
Pros:
Unbreakable
Heavy-duty plastic
BPA free
Dishwasher safe
8 bowls at a reasonable price
Versatile uses
Stackable
Cons:
May be ruined if washed on the bottom rack or used in the microwave
---
Best White Cereal Bowls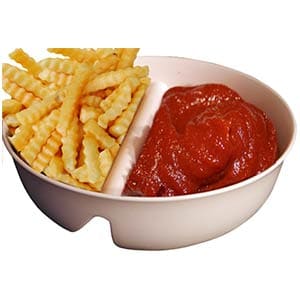 What You Will Love: This 2 pack cereal bowl set comes with two compartments to keep liquids separate from solids.
The Just Crunch Anti-Soggy Cereal Bowls are handy kitchen gadgets.
While they are excellent for cereal, they are also useful for other food combinations such as fries and ketchup, chips and salsa, or hot and cold items such as soup and salad.
I love chips and salsa but hate soggy chips. I would love to have these bowls for snack time.
These divided bowls are lightweight, BPA free, microwave and dishwasher safe, and easily stackable. With prices generally ranging under $20, the Just Crunch cereal bowls are a great solution for soggy food at a great price.
The only downside I could find is that according to the pictures, the larger side is supposed to be for cereal.
However, users have stated that if you go by the picture, you will have much more milk than cereal so they use the smaller side for milk.
Pros:
BPA free
Durable, stackable for storage efficiency
Microwave safe
Dishwasher safe
Great for multiple food combinations
2 white bowls in each pack
Great price
Cons:
Have to use opposite of the picture for good milk to cereal ratio
---
Best Insulated Cereal Bowls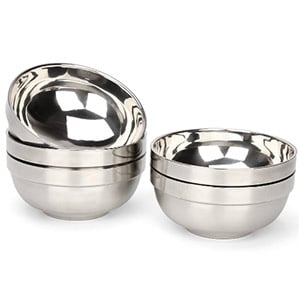 What You Will Love: These double-walled insulated bowls are great for keeping cold foods cold and hot foods hot without burning your hands.
These brushed stainless steel bowls not only look great but function well. The set comes with five 13 oz bowls that are BPA free, corrosion resistant, and scratch resistant.
They are excellent at keeping your food the temperature it is supposed to be. This means that your ice cream will stay cold if you have to walk away. I love that idea.
Though they cannot be used in kitchen appliances such as a microwave or oven, they are both dishwasher and freezer safe. They are also stackable and will not easily tip over.
As with any stainless steel item, you will see fingerprints. And, though they are corrosion resistant, stainless steel can rust if it is not dried.
With the price generally ranging between $15 and $20, this RushGo set is an excellent investment.
Pros:
Five 13 oz bowls
BPA free
Corrosion and scratch resistant
Keeps your food's temperature
Dishwasher and freezer safe
Stackable
Great price
Cons:
Stainless steel can rust
Holds fingerprints
---
Best Stainless Steel Cereal Bowls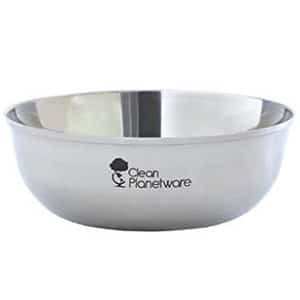 What You Will Love: They are made with unbreakable food grade stainless steel.
This Clean Planetware set is great to use as cereal bowls, soup bowls, or dinner bowls. They are BPA free and contain no linings or toxins.
The bowls are made with unbreakable food grade stainless steel that is easy to clean, stain resistant, rust resistant, easily stackable and dishwasher safe.
The only downside I could find for this Clean Planetware set is the price. Coming in between $40 and $60 depending on the seller, this set may not fit into every budget.
However, if you can find the room in your budget, they will last you for a long time, making them a good investment.
Pros:
Versatile uses
Very durable
Food grade stainless steel
BPA free, stain and rust resistant
Dishwasher safe
Cons:
May be too expensive for some budgets
---
All five best cereal bowls listed here offer great features and benefits, though some differ from others. You may find it beneficial to choose more than one set for your kitchen.
For instance, I would likely purchase the Just Crunch bowls for snacks and certain meals but also the RushGo set for regular food items. Having a variety in your kitchen can help you cover multiple needs without worry.
---
Related Articles:
---