Which Are The Best Butcher Knives?
When looking for the top Butcher Knives, there are certain things you need to think about: the length, the durability, the performance, and more. With these things in mind, we chose the Victorinox 12-inch blade as our top pick. Its extra length makes it a good choice when tackling full sized roasts.
But if you're looking for a stocking stuffer for your knife hound who loves to cook at the campsite, the Ontario Knife 7025 7-Inch Butcher Knife won't set you back much cash and it may just turn into their favorite blade with a little attention.
---
Quick Comparison: 5 Top Butcher Knives
---
Things To Consider When Buying The Right Butcher Knives
High Carbon Content
If you are looking for a blade intended to last many years, a high carbon content steel is designed to withstand more impacts and resist dulling over time.
Blades crafted out of other metals may be subject to rust, loss of sharpness and can be brittle-shattering when the chef is attacking a large roast or deboning a side of beef. The ideal butcher knives will cite the carbon content in their steel.
Stamped or Forged Steel
Stamping a knife simply places the metal under a press and chops out the required shape.
The metal is not tempered, meaning it hasn't been subjected to extremes. Forged steel has undergone this conditioning through repeated exposures to heat and cold.
This builds up the strength of the blade and it will be able to tackle frozen lumps of meat and bone while reducing the likelihood of chipping, dulling or shattering. Forged steel tends to cost more, but the durability of the blade improves exponentially.
A Textured Nylon, Wood, or Shaped Handle
A butcher's knife is a handheld tool and works best when the chef has control over their instrument.
This means a good handle is nearly as important as the blade itself. Many chefs declare that their old-fashioned wood handles are comfortable and have withstood years of abuse.
Comfort is key.
A smooth plastic handle, even if molded, doesn't provide any give for hands that may be slick with grease and blood. You may want to ask the person you are shopping for their preference in this area.
Textured nylon has become very popular as it provides good non-slip grip.
Wood naturally has some give to it and a quality knife should withstand years of service when properly cleaned and maintained. Smaller hands can grasp shaped handles better.
What Will It Be Used For?
If the knife is intended to cut up a large roast once a year and then hide in the back of the drawer, you may not have to invest in a top of the line blade. The more inexpensive version will probably stand up to that task for quite a few years.
Professional chefs will likely be specific on the brand, size, and shape of the blade they will be using on a daily basis.
Meanwhile, if you are shopping for the master or mistress of the traditional tailgate parties, consider spending a decent amount on a quality blade that will be used several times a season.
A really good blade helps to improve the confidence and therefore the quality of the food provided by the dedicated hobbyist.
Does It Have To Be Expensive?
Not necessarily. Many blades on the market are priced relatively inexpensively, and some will cost you just a ten or two.
When considering that the tool with becoming part of the kitchen for years to come, a moderate investment should not be dismissed out of hand.
A chef will require a more expensive blade, and being a miser on the purchase will end up in disappointment for everyone.
If you are simply seeking a knife to handle the annual holiday roast, opting for the less costly version will probably work out for you.
---
5 Best Butcher Knives Reviews
---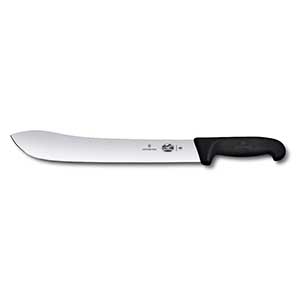 This Swiss butcher's butcher knife is the longest of those presented here.
Its extra length makes it a good choice when tackling full sized roasts, breaking down large cuts and other heavy duty chores.
It is stamped out of cold-rolled steel, providing some resistance to extremes.
No good kitchen knife is stainless, so take care to wash and dry the blade after each use to maintain its appearance and edge.
The handles are crafted out of non-slip Fibrox and are weighted to provide proper balance.
It is the priciest out of the lot, but it will be able to stand up to those full rack of ribs without a problem.
Pros:
Extra long 12-inch blade
Non-slip shaped Fibrox handle
High carbon content steel
Cons:
Stamped steel reduces durability
Can be too heavy or long for smaller hands to control
Must be hand washed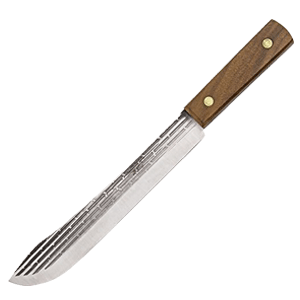 Ontario has been crafting blades for well over one hundred years and their products tend to stand up to their reputation.
This 10-inch butchers knife is large enough to handle almost any meat carving chore you place before it.
Their handles are traditionally wood and provide a good grip and nice balance.
It features a full tang for an increased flexibility without breaking at the handle.
The high carbon steel is stamped, but easily holds a very sharp edge and can be restored with the simple use of sharpening stone.
Often known as the go-to knife in many farm kitchens, the user is likely to receive decades of use when it is properly cleaned and stored.
Best of all, their blades are moderately priced giving you a good bang for your buck.
Pros:
Ontario Knife Company has over 100 years of making quality blades
10-inch length can tackle most large jobs
Moderate Price
High carbon steel
Cons:
Will rust if left wet. Best to avoid the dishwasher
Brass rivets on handle can offer spot for germs to hide
The blade will discolor over time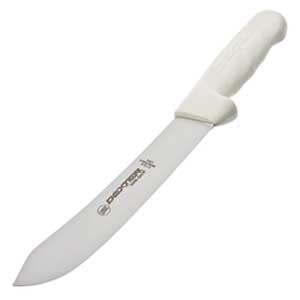 This attractive blade can be found in commercial kitchens worldwide.
The white handle is molded in a way that prevents any dirt or germs from lodging between the blade and the handle, earning it an NSF certification for safe food preparation.
While the 8-inch high carbon steel blade is shorter, it is heavy duty and should be able to cut through most roasts and large cuts of meat with little effort.
Non-slip and molded handle offer good grip and excellent balance for improved control.
Dexter-Russell has been forging steel blades since the early 19th century and continues to put out products that the cooking industry has come to rely on.
As usual, you must wash and dry the blade immediately to prevent rust or dulling. Using your knife sharpener should return the blade to near original condition with little effort.
Pros:
Earned NSF certification for its food safety friendly design
White handle works well with current kitchen decor
Moderate price
High carbon steel
Cons:
Shorter 8-inch blade
Blade can get discolored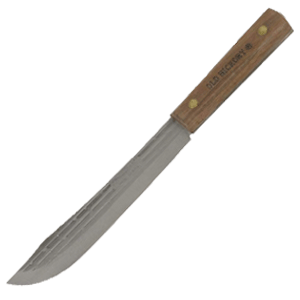 Knife Company, you are dealing with a quality knife for a fairly low price.
It is only 7-inches long and does not have the thickest steel.
However!
If you are seeking a blade that can split up a rack of ribs or cut down a chicken with ease, this will probably fit the bill.
Its shape is the one that knives priced in the hundreds are based on, but this one can be yours for a fraction.
Perfect for taking to the tailgate or camping, as if it gets damaged or lost, it's no real loss to your pocket.
At the same time, home cooks have been relying on their Old Hickory butcher knives for decades. The test of time is often the one that tells the real tale.
Pros:
The knife used by the BBQ Pit Boys
Time tested shape and size
Made in America
Low Cost
Cons:
Thin steel
Will chip when it hits the metal
Tends to rust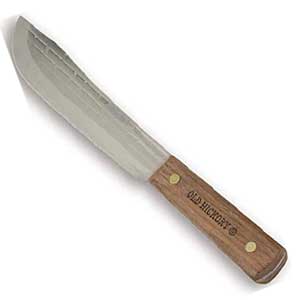 This is the knife you are looking for when you expect to destroy a blade.
The 7025 model from the Ontario Knife Company skipped the finishing line at the factory and arrives in a cheap plastic covered card.
The blade arrives ragged and nearly unusable…but here's where it gets good.
This inexpensive knife is crafted out of high-quality carbon steel.
After sharpening and oiling, you are left with a knife ready to tackle almost any job on the butcher block or at the campground.
And if you should chip it after bounding it off a boulder while whittling down branches for the fire, you will have only spent a few dollars.
This is a knife that a prepper or huntsman will come to appreciate over time and use.
Pros:
Low price
High quality steel that can be sharpened
Use outside the kitchen guilt-free
Cons:
Arrives ragged and dull
Shorter blade won't handle large butcher jobs
Unattractive packaging
---
Above, We've gathered  5 of the best butcher knives to help you find the one right for that special foodie on your shopping list.
---
Related Articles: