What are the Best Bowling Shoes?
We have picked the BSI Men's Basic #521 Bowling Shoes as the top bowling shoes as they are very lightweight yet durable. The micro fibrous rubber sole enables excellent sliding, and the padded tongue adds comfort while protecting your ankles from abrasions. In addition to the outstanding performance, they are also set at a great price point.
---
Bowling is a fun activity regardless of whether you are a competitor or just a family fun enthusiast. Bowling has provided great funny to many on the weekends and will continue to do so.
Unfortunately, for those who partake of the game often, renting shoes at the bowling alley can add up and put a dent in your wallet pretty quickly.
If you go bowling more than once every six months or so, it is wise to consider purchasing your own bowling shoes. You then have the opportunity to break them in with your foot so that they fit as you need them to.
As the popularity of bowling increases, so does the number of bowling shoes on the market. If you are ready to take the plunge and own your own bowling shoes, this article can teach you some important facts so you can choose the right bowling shoes for yourself.
---
Quick Navigation
Top 10 Best Bowling Shoes: Our Picks & Recommendations
---
How to Choose the Right Bowling Shoes?
Materials
Most bowling shoes are made from leather and synthetic materials. Synthetic ones are lighter options than the others, but leather lasts longer and supports your foot a little more. If you can squeeze the leather models into your budget, that would be your best option.
Durability
Whether you are an avid bowler or just one who enjoys a game here and there, you want your shoes to last for a while.
Of course, those who bowl more often will most likely have to purchase new bowling shoes more often than others, but even avid bowlers would like their shoes to last for at least a number of months. A year or two would be even better.
As bowling shoes are usually high priced anyway, you might as well invest in the best pair possible.
Design
Though the look of the shoe is not the most important factor, the good news is that there are now much better options than what was available ten or twenty years ago. Check out some different designs before choosing your favorite.
Fit
The fit of the shoe is about much more than size- it is how the shoe fits around your foot.
Does the toe box allows some movement with your toes, or are they completely cramped?
Does the shoe fit your heel well or does it slide up and down when you walk?
Are there any spots you can feel that will probably cause a great deal of pain in a short time?
Pay attention to how your foot feels in the shoes when making your final decision.
Inner Sole
Remember that you will be on your feet, maybe not the whole game, but for a good portion of it. When you are on your feet, you will be moving, so you want your inner soles to be comfortable and supportive.
Two of the best options for inner soles are EVA and memory foam. The EVA is the cheaper option that molds around your feet. Memory foam does this same job a little better for a higher cost.
You can find much cheaper polyurethane inner soles, but they are nowhere near as comfortable since they do not mold around your foot at all.
Outer Sole
Sliding and gliding across the alley's floor is a necessary, and dare we say fun, part of the bowling game. That is why when you are looking for bowling shoes, you do not need to look for grip or traction.
This is totally different from shopping for athletic shoes, hiking shoes, or even everyday shoes. Rubber out soles with microfibers is what you need.
Sizing
If you have ever tried on bowling shoes, you likely know that they do not tend to run in sizes similar to your regular shoes. In fact, you might have to try on a few different sizes before finding the one that fits your foot well.
Take time in this area as those that are too large or too small can cause some painful distractions while you are playing your game.
Weight
The last thing you want is heavy shoes while you are sliding across the bowling alley floor. Lightweight options are much better.
Cost
As previously stated, bowling shoes are an investment, but you do not want to spend too little on something that supports your body during play. Be ready to invest well in these so that you can find the best pair for your feet.
Additional Extras
There are many extras you can look for or steer clear from. Some people enjoy an added heel, but this really could be more of a burden and a weight than anything helpful.
Some shoes offer some breath-ability, which is good if you plan to be in them for a while. The inner collar can come padding for comfort and some moisture wicking properties. These are not necessary but you may find them beneficial.
---
10 Best Bowling Shoes Review
Here's a list of the best bowling shoes we found on the market:
---
Best Overall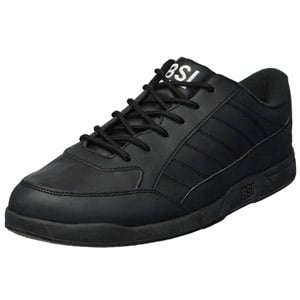 What You Will Love: The lightweight, durable rubber sole provides excellent sliding action.
The BSI Men's Basic #521 Bowling Shoes are a great, affordable option. The sole is made from micro fibrous, durable rubber that provides a great slide across the floor.
The tongue is padded for extra comfort, though it might slide down when wearing. That would, of course, be uncomfortable and annoying while you are trying to concentrate.

The action leather upper allows for movement and flexibility, and the extra plush insole supports the feet comfortably. There is no additional heel, so there is no extra burdensome weight to contend with. The style is basic in all black and more of a tennis shoes look.However, that allows the shoe to match better with your clothing.
With the prices ranging from $30 to $45, this is definitely an affordable pair of bowling shoes. However, only around 75% of buyers report that they fit correctly.
If you choose this pair, it would be best to try a similar shoe on elsewhere to be certain of the size you need, or make sure the retailer you order from has an exchange policy.
Pros:
durable rubber sole
microfiber sliding sole
lightweight
extra soft insole
leather upper for flexibility
no heel
padded tongue
good price
Cons:
might fit large
tongue may slide down often
---
Best Budget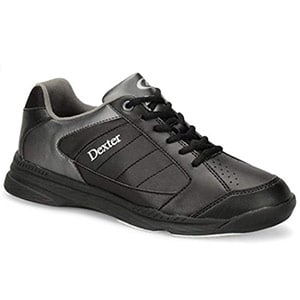 What You Will Love: The available color combinations and fresh style makes these a fun and hip bowling shoe to wear.
The Dexter Bowling Men's Ricky IV bowling shoe is the new kids on the block. The rubber and lightweight sole provide a great slide across the floor.
The soft and durable uppers wrap around the foot to help secure the shoe in place, and it allows for a slight amount of breath-ability. Any breath-ability is good, especially in sports type shoes where you move constantly and are likely going to sweat.

Both the ankle collars and the tongues are padded for additional comfort, and they help prevent abrasions fro so much movement. The fabric lined pattern also add to the comfort.
As an added benefit, the design and multiple color combinations give you a stylish bowling shoe.
They are mid range as far as price goes since they range between $36 and $45. The downside is that the heel is slightly elevated. This may not be a problem for some, many people find it to make a heavier and more burdensome issue.
Pros:
multiple styles and colors to choose from
rubber and lightweight outer sole
soft and durable uppers
padded tongue and collar
fabric lined

Cons:
---
Best Synthetic Bowling Shoes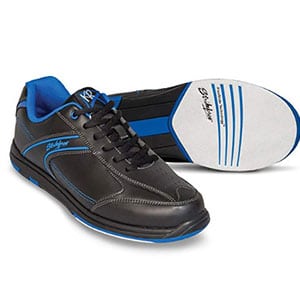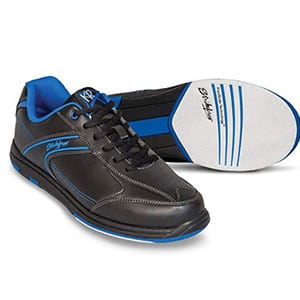 What You Will Love: They are very comfortable, durable, and very stylish.
These KR Strikeforce Men's are cool bowling shoes that are created with Komfort- Fit construction intended to provide an individual and comfortable fit.
The man made uppers are both soft and durable. Both the tongue and ankle collar are padded for extra comfort and protection from abrasions.
They are made with a universal sole, which very simply means that both shoes have the slide soles. This is great for those who feel more inclined to slide with the left foot than the right one.
The sizes are said to be wide, so they are a good option for those with wide feet or who just need some additional space in the toe area.
While they seem to be very well loved shoes, there are a couple of potential downsides. First, prices start low- around $38- but can range to more than $70 depending on the size and style you choose.
Also, some find them to be great immediately with no need for time to break them in. A few other buyers have said it took a little time for them to get used to.
Pros:
stylish with great color combinations
soft and durable uppers
Comfort- Fit construction
padded tongue and collar
universal soles
good option for wide feet
Cons:
range up to higher prices
might take a little time to break in
---
Best Leather Bowling Shoes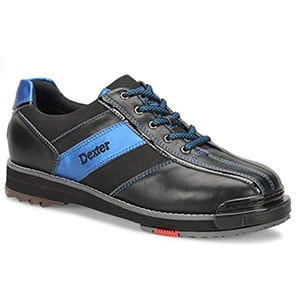 What You Will Love: This pair of bowling shoes is designed to protect your sole from peel back due to sliding.
This Dexter Bowling Men's Shoes SST 8 Pro is a very stylish bowling shoe.
The design looks great as does the black and blue color combination. They are equipped with a leather toe drag protector that is specifically designed to prevent any peel back on the sole from your sliding.
This is good because one of the last things you want or need is to trip over the sole of your shoe while attempting to slide. The inner sole can be easily replaced if you find that it is not comfortable enough or supportive enough.
They are designed with leather uppers and rubber soles for easy gliding. A favorite benefit of these shoes is that they seem to add balance to the bowler who is wearing them, which is obviously a great thing for bowlers. There are a couple of downsides though.
First, as they range from $129 up to $150, so they are one of the more expensive options. Also, the heel is slightly elevated which may interfere with the comfort.
However, they do seem to be a well loved bowling shoe, so if you can spend the cash, you should consider trying this pair.
Pros:
black and blue color combination
nice look
leather toe drag and leather uppers
rubber soles
interchangeable sole
provides balance to the wearer
Cons:
very expensive
slightly elevated heel
---
Best Shoes for Men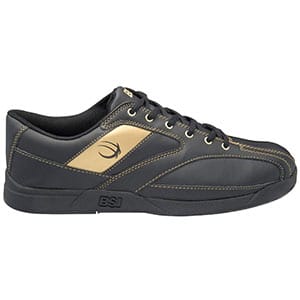 What You Will Love: They are well loved by amateurs and avid bowlers alike thanks to their comfort and low price point.
The BSI Men's 571 Bowling Shoes look great as they are black with gold embellishments.
The microfiber sliding sole works well. However, some bowlers who use bowling alleys that are less slippery than others find it helpful to add some talcum powder to the bottom of the shoes.
The inner sole is extra plush for a great amount of comfort. They have action leather uppers for durability and flexibility, and the rubber out-sole is very durable.
The shoe itself is lightweight and are a little wide in the toe area, which makes them a great choice for someone who needs just a little extra room. They do run a little large, so you should definitely consider ordering half a size smaller than you normally wear.
The prices tend to range between $33 and $45, so they are an affordable pair. Many avid bowlers recommend these as they provide plenty of comfort and space, and slide very well on normal bowling alley floors.
Pros:
the black and gold color combination looks great
microfiber sliding sole that performs well
extra plush insole and sock lining
action leather upper for durability and flexibility
lightweight yet constructed well
durable, rubber out-sole
affordable price point
a little wide in the toe area
Cons:
---
Runner-Up (Men)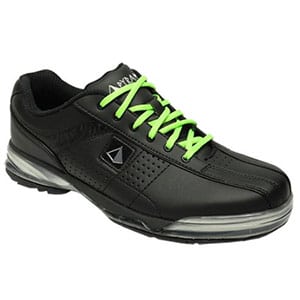 What You Will Love: These shoes were designed by bowlers who understand what bowlers need for their feet in the game.
The Pyramid Men's HPX High Performance bowling shoes are for right handed bowlers. They have an attractive, sleek design made from high quality materials and construction.
Both the soles and the heels are interchangeable, and the innovative H- Bar technology locks the heel into place so you do not have to worry about it falling off during wear.
The durable thermal outsole provides great sliding action, and they offer maximum flexibility. They were designed to need the lowest amount of break in time possible.
These wonderfully designed shoes provide a great fit and a lot of additional stability.
A few users have found that they fit a little loose around the ankles, though others feel that this problem can be solved with some tightening of the shoelaces.
As an added benefit, they come with an additional set of shoelaces. The downside is that they are very expensive, running between $119 and $125.
Pros:
sleek design
high quality construction and materials
durable thermal out-sole
innovative H- Bar technology locks your heel into place
comes with additional shoe laces
interchangeable soles and heels
maximum flexibility
needs little break in time
provides stability
designed by bowlers
comfortable fit
Cons:
expensive
might fit loose around the ankles
---
Best Shoes for Women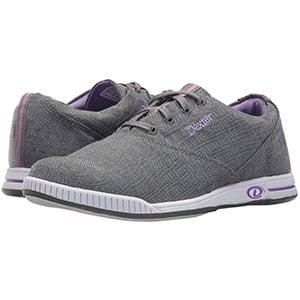 What You Will Love: It is a classic looking shoes designed by the well known and trusted Dexter brand.
The Dexter Kerrie Bowling Shoes are flexible thanks to the canvas fabric uppers. They are lightweight with a durable outer sole, and they have great sliding capabilities.
The grey twill fabric gives a nice and subtle look for ladies. They are breathable, and equipped with a lightly cushioned ankle collar and tongue. These provide greater comfort and protection from abrasions.
The moldable foot bed adds to the comfort of the shoes. They range in price from $44 to $65, so they are affordable but there are cheaper options available.
Though these are sturdy and durable for use, you will likely find that there is little protection from external incidents. They are comfortable enough and stylish enough that they are sometimes worn as every day shoes.
The medial side vents provide even greater breath-ability to prevent bacterial growth and odors from sweating.
Pros:
affordable price
textile fabric for flexibility and breathability
classic and subtle look for a ladies' shoe
made by trusted Dexter brand
lightweight, canvas uppers are comfortable and flexible
durable outer sole
non marking rubber soles
side vents for additional breath-ability
great forefront sliding capabilities
lightly cushioned tongue and collar for comfort and protection
molded and removable foot bed provides great comfort and support
lightweight and soft yet durable and sturdy
Cons:
---
Runner-Up (Women)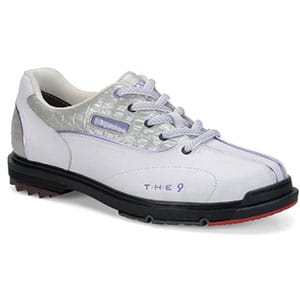 What You Will Love: They look great and are made for interchanging the heel, the outer sole, and the toe hold when necessary. This lets you personalize the shoes and extend the life of them, saving you money in the long run.
The Dexter Women's T.H.E. 9 Bowling Shoes are a favorite among lady bowlers. They are designed to be both left and right convertible.
The hyper-flex toe box provides a lot of flexibility and even helps protect shoes from dragging your toes. The uppers are made from soft leather, and the inner sole provides great comfort and support.
The shoe has an attractive sleek design, and the white/ lilac color complements that design.
The ability to change out the heel, sole, and toe box means that if something is not comfortable or starts wearing down, there is no need to buy a brand new pair of shoe. They should last a while as they are some of the best women's bowling shoes.
You can save that money and simple purchase interchangeable parts for as long as you can. Some users state that the size runs just a little too large but others say that they run true to size.
The elevated heel may prove a problem for some. Also, running between $154 and $194 makes these a high priced shoe. If you weigh the price against what you will save by swapping out parts, the initial price is not so bad.
Pros:
made for great flexibility
hyper-flex toe hold to resist abrasions
toe hold can be exchanged when wears down instead of buying new shoes
right or left convertible
soft leather upper
interchangeable sole and heel
sleek design
provides great comfort and support

Cons:
high price
high heel
may fit a little large
---
Best Unisex Bowling Shoes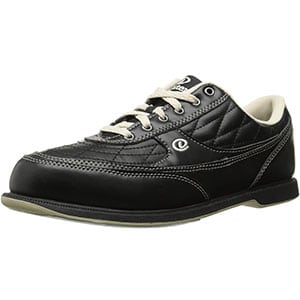 What You Will Love: They look great, and have sliding soles on both shoes.
The Dexter Turbo II Bowling Shoe is made with a medium level width, meaning that they are not narrow or even average, but they are not very wide width either.
If you need a really wide bowling shoe, this is not the one for you. The sleek and attractive black and khaki shoes are made with soft and durable uppers, and a padded tongue and ankle collar.
This all makes these some of the most comfortable bowling shoes that offer protection from abrasions.
Both the left and right shoe are designed with microfiber sliding soles that are also non marking. They are both comfortable and supportive, though the raised heel may be a burden to some.
The padded tongue is nice, but it is also sensitive enough that a couple of users ripped them out while trying to tie their shoes.
Though this possibility would definitely depend on the level of force a person is using, try to avoid any jerking movements with the tongue- just in case.
Pros:
affordable price
medium width
sleek black shoe with khaki trim
soft yet durable upper
padded tongue and ankle collar
Non marking rubber sole
microfiber sliding soles on both shoes
comfortable
toe box may be a little short for some
Cons:
raised heel may prove a burden to some
tongue is sensitive and may be easily ripped out

---
Best Shoes for Kids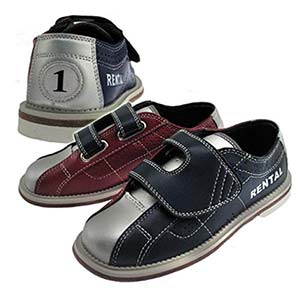 What You Will Love: These will save you a lot of money in shoe rental fees- if your little one goes to the bowling alley regularly.
These Classic Kids Rental bowling shoes come equipped with universal sliding soles, so both right and left handed bowlers can wear them.
They require no tying as they have the simple hook and loop fastenings. They have soft uppers and stitching that glows in the black light- always fun for young ones.
There is nothing super fancy about them, so if your kid is a serious bowler, you should consider another pair. These are great for family trips to the alley though.
The prices tend to hang around $35. Calculate the amount you spend on shoe rental fees at the bowling alley. If that amount costs more than this pair of shoes, save yourself a little money.
On the other hand, as children grow so quickly, if you only head to the bowling alley once or twice every few months, these are probably a waste of money.
Pros:
affordable prices
universal sliding soles
good for right and left hand bowlers
simple hook and loop fastening allows for adjustable fit
stitching glows under black lights
durable man made uppers
Cons:
the look is a little plain for kids shoes
may come with a strong odor
price may outweigh the benefits
---
For those who frequent the bowling alley, having your own shoes for bowling can save you both some time and some money. We hope that the information available here will help you get familiar with bowling shoes and help you find the best bowling shoes for yourself and family.
---
More Shoes Related Articles:
---