What are the Best Basketball Socks?
We have picked the Nike Men's Elite Versatility Basketball Crew Socks as the top basketball socks as they provide a comfortable plush feel, compression capabilities, and a glove like fit. They are stylish and affordable, and they do not slide down into your shoe. They are also breathable and moisture wicking properties.
Whether you are a professional or a newbie, a good pair of basketball socks can change the game- quite literally. As basketball is a constant movement and sweaty sport, your socks need to account for that. They need to keep your feet cool and dry, and they need to stay in place.
These are just a couple of special features that a great pair of basketball socks should have. To help our fellow ballers, we have put together this buying guide that shows you all of the factors to consider and show you seven of what we consider to be the right basketball socks available.
Top 7 Best Basketball Socks: Our Picks & Recommendations
How To Choose The Right Basketball Socks?
The following are the criteria we judged our options with, and they are good criteria for you to judge by as well.
Since ball players are constantly moving and grooving, comfort is important with everything you wear, including socks. The perfect basketball socks need to be comfortable throughout the game. Dealing with seams is not conducive for comfort- neither are socks that will slip. Padding can improve comfort, though.
Cushioning And Arch Support
There was a time that socks did one thing: cover your feet. Now, you can purchase socks that provide cushioning in the forefront and heel area. There are also socks that have compression bands in the midfoot area that provides a lot of arch support. Pretty much any support you need can be found.
As with anything else, you want your basketball socks to last. Avoid socks that are made from cheap materials. Usually, you can expect to spend more money for good socks that will last a while.
Avoid options made from 100% cotton as they will soak up too much moisture and be uncomfortable. Instead, look for blends of polyester, nylon, cotton, and even spandex.
A compression system can help keep your socks up and give a little more support. It can also prevent vein issues that many people start seeing over time.
Basketball is going to work up a sweat. If it does not, you probably are not doing it right. Having breathable socks is imperative for comfort and odor protection.
There are really no right or wrong answers when it comes to thickness. It comes down to personal preference. Thicker socks will probably be a little more comfortable but they can also be much hotter.
You have three different lengths to choose from: crew cut, mid cut, and low cut or no show socks. Long socks are no longer used as the now use compression pants instead.
You might not care about the color, but if you do, there are a lot of different colors to choose from. All in all, unless you just want to make a statement, choose some darker or duller color since dirt and dust do not show up as well on those.
Again, you will sweat a ton when playing ball, so having socks with moisture wicking properties is important. This material will keep you cool and dry during game time and practice.
7 Best Basketball Socks Reviews
Here's a list of the best basketball socks we found on the market: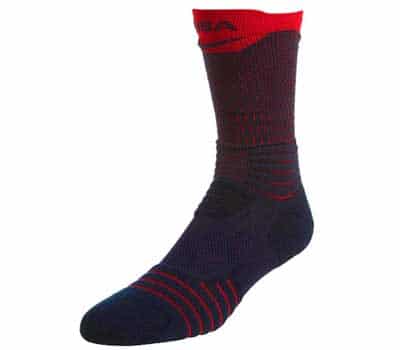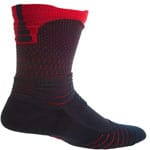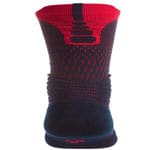 What You Will Love: There is a ribbed band at the top that helps keep your sock up during play, so you do not have to deal with them slipping down into your shoes.
These Nike Elite Versatility Basketball Crew Socks are incredibly comfortable basketball socks. They are extremely breathable and provide moisture wicking properties to keep you cool and dry while hitting the court.
If style is a concern, these socks are very stylish- and they are very affordable. You can get them in three different lengths, they fit like a second skin, and there is an ankle support system. They also provide shock absorption and reduce any foot pain you might choose. The cushioned foot bed and plush feel wonderful, and the ventilation helps prevent odors after long hours of play.
Even better, the top has a ribbed band, meaning that your sock stays up throughout your wear- goodbye, discomfort. And, of course, they come from Nike- a brand who understands athletes and the needs they have, so you can trust that they will provide what you the comfort and support you need.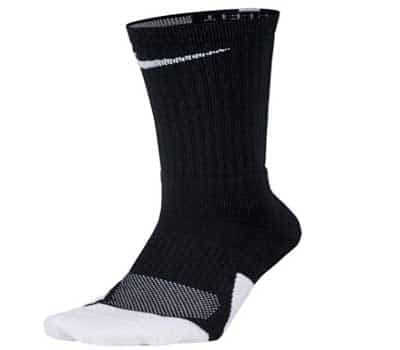 What You Will Love: The socks are made specifically for each foot. To give the best fit, right socks are made specifically for the right foot, and left socks for the right foot. This keeps the socks from having to adapt to your feet since they are already specifically designed for the foot shape.
The Nike Dry Elite 1.5 Crew Basketball Socks are a definite improvement from the 1.0 version. They provide excellent arch compression and a ribbed cuff keeps them from falling down in your shoe on the court. The socks are a blend of polyester, cotton, nylon, and spandex.
This blend provides comfort, breathability, and moisture wicking properties. The DRI FIT technology keeps you cool and warm, they are designed specifically for each separate foot, and they are very affordable. Do beware of the colors, though, as they do not always come in the color of the images. 
Best Men's Basketball Socks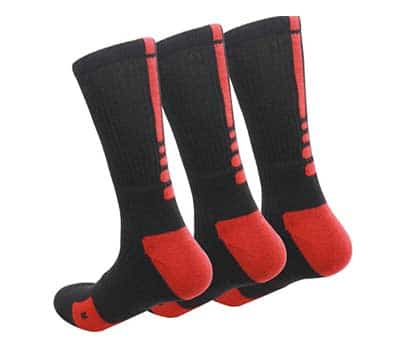 What You Will Love: This are a great value, especially if you want name brand quality without the name brand price.
These MUMUBREAL Men's Basketball Socks are a great choice for athletes. You get excellent quality for a great price. They have reinforced heels and toe sections, which not only provide extra comfort but also make them very durable. The fabric is a mix of cotton, dri-fit, nylon, and spandex  makes the socks breathable, comfortable, and gives them moisture wicking properties.
The socks are designed specifically for right and left foot wear, making them more comfortable and durable. The arch compression makes them supportive, and you do not have to worry about them slipping down.
Everything about these socks make them comfortable, durable, and supportive for athletes. The only complaint so far is that they feel smaller than the stated size. This may be due to the extra support, so you might need a size bigger. 
Best Women's Basketball Socks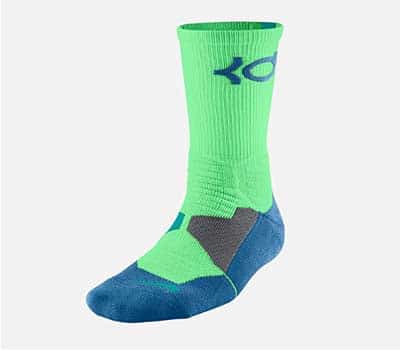 What You Will Love: They are stylish, comfortable, and supportive for lady basketball players.
These Nike Hyper Elite Women's Basketball Crew Socks are a good choice for ladies who wear sizes 4 to 8 in shoes. They are green and blue in color, making them stylish and fun. The dri-fit fabric keeps you cool and dry while running up and down the court. The sock comes up the calf muscles and has a band to help keep socks up instead of slipping down.
They are designed for specific foot sides- right socks are already shaped for right foot use and left for left foot use. This means that there is no adapting time- they are comfortable from the get go. The seam is on top of the foot, so you need not worry about them getting in between your toe and toe nail- a very uncomfortable feeling.
Additionally, there is a compression band on your mid foot area that provides arch support, and there is some compression around the ankles as well. This compression may get uncomfortable if you have a wide foot or ankles. Also, $33 for a pair of socks is high, but they are Nike name brand, so it comes to your preference above all else. 
Best Kids Basketball Socks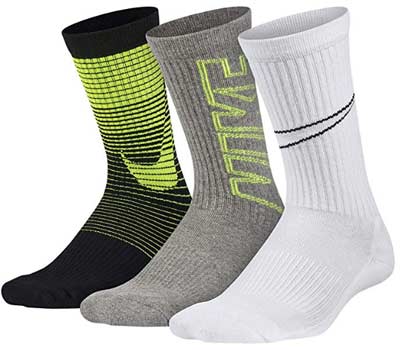 What You Will Love: They are excellent socks that come in packs of three- most starting at really affordable prices.
These Nike Kids' Graphic Crew Socks are very comfortable, supportive, stylish, and durable kids' socks. They provide plush, terry cushioning in the high wear areas that give your child great comfort and help keep them around for many games and practices.
The mid foot band provides great arch support, and they give a snug and secure fit. The heel and toe are reinforced for durability, and they are machine washable. Unfortunately, they are made from a lot of cotton which can absorb a lot of sweat.
Also, you might want to hang them to dry as the cotton may shrink otherwise. These awesome kids' socks come in a pack of three in your choice of colors, and these packs start at very affordable prices. 
Best Unisex Basketball Socks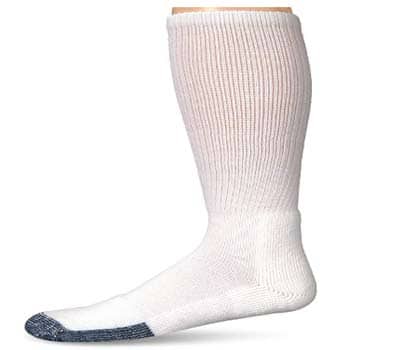 What You Will Love: If you are still into the old style of long socks, this is a great choice for you.
These unisex basketball socks from Thorlo are some of the most padded options available. The foot bed area has thick padding for extreme comfort. In fact, they are so padded that some people may think that they are too thick.
Even though they go almost to the knee, they are not hot socks. This is because the fabric covering the leg is actually thin and breathable. They provide a lot of breathability, and they are extremely soft. The fabric up to the knee provides calf protection and support, and these socks are made to be extremely durable.
The biggest downside is the look. There is not a large variety of colors to choose from. It is actually just black and white to choose from. And they are pretty plain, to top it all off. It you do not mind a lot of padding and a more durable look, these are excellent socks. They are also pretty affordable.
Best Customized Basketball Socks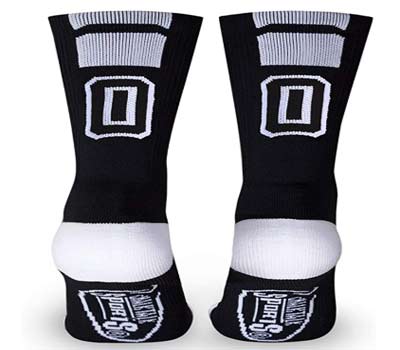 What You Will Love: You can order them with your custom team number in a black and white stylish look.
Chalk Talk Sports provide these customizable socks so you can choose your team member. They are sleek looking black and white socks that are made with a blend of polyester, nylon, and spandex. This fabric is comfortable, breathable, and pretty durable.
They wick away the sweat keeping you dry and cool. They look and feel good enough to wear on and off the court, and they are pretty affordable. It is important to note that these are a little large on young kids but are not really large enough for adults.
It may be difficult to find a happy medium in this option. Also, although the are made from normally durable material, you might find holes in them more quickly than expected. All in all, these may be more of a "show off" item than an actual functioning sock.
Frequently Asked Questions (FAQs)
Why Do Basketball Players Wear Long Socks?
This is actually no longer a popular thing since the influx of compression tights, but whether it is long socks or tights, there is actually a purpose. Compression gear can help reduce muscle fatigue and soreness after workouts, keep muscles in better alignment to reduce the risk of injury, and the increase of blood blow to the compressed muscles.
Where Can I Buy Nike Basketball Socks?
Almost anywhere- your local mall, online, sports stores, shoe stores, Amazon- of course, Nike stores, and other such places.
What Size Should Basketball Socks Be?
This is up to you. You can get more form fitting socks or those that provide a little movement. You can also choose between three different lengths. It comes down to preference of style and comfort.
Which Brand Makes The Best Basketball Socks?
There are a lot of great socks and a lot of great brands. We might be slightly partial to Nike, but this is due mostly to their reputation and design. Nike is a company that works with and truly considers athletic challenges, so it is easy to trust that their products are good choices.
How Much Does It Cost To Buy Basketball Socks?
You can find them lower than $10 and up to more than $40 a pair. Do keep in mind that while most of the best socks will require a good investment, you can find some great ones at affordable prices. You can also keep an eye out for sales on the higher priced ones as that will occasionally happen, especially during the off seasons.
Basketball socks can improve your performance or wreck it, depending on the quality of the sock. There are certain things that you should consider when you choose your socks, especially with so many options available. We have taken a look here at factors you should consider to help you find the best basketball socks for you.