What Are The Best Basketball Shorts?
We have picked the Champion's Men's Long Short with Pockets as the top basketball shorts as they are comfortable and made from breathable polyester, and they have a draw cord so that you can easily make adjustments. They are also very affordable basketball shorts, shooting them to the top of our list.
It is no fun trying to ignore wet clothing as you are trying to concentrate on playing your game. And it would be horrible to know that you missed a free throw due to that distraction. With the right basketball shorts, that does not have to be an issue.
The right material can keep you playing cool, dry and comfortable so you do not have to worry about missing the winning shot. To minimize the research you have to do, we decided to look at nine great basketball shorts options and share our results.
Top 9 Best Basketball Shorts: Our Picks & Recommendations
How To Choose The Right Basketball Shorts?
The following are the factors we took into consideration when testing the basketball shorts, and they are what you should consider when purchasing:
Most basketball shorts will be made of either polyester, cotton, or a mix of materials. Those made from mostly cotton are comfortable, but they also soak up sweat and take forever to dry- not good for gaming.
Polyester options are also comfortable, but they dry quickly. At the same time cotton is more durable than polyester. Finding a blended fabric with moisture wicking properties will be your best bet. 
You have to ensure that you have the right fit with your basketball shorts. A little baggy is okay, and will probably provide more comfort, but too baggy will slow you down.
Instead of guessing, measure your waist. 28 – 30 inches should go for a small, 32 – 35 inches should get a medium, 36 – 38 inches should get a large, 40 – 42 inches should go for an extra large, and 44 – 46 inches would do well with an extra extra large. 
Having some breathable shorts on during game time can increase your comfort and level of performance. Again, a blend of fabrics will offer breathability and comfort.
Basically, you want your basketball shorts to reach your knee. Anything longer will interfere with running. Anything short- well- it just will not look good while you are running around the court, or if you happen to trip. 
No one can tell you what is comfortable for yourself- you will have to decide for yourself. Try on a few different pairs and walk around for a minute. If they feel tight in any areas, move on to the next pair.
You also, of course, want to consider durability. Your basketball shorts will take a beating during games or practices, especially thanks to all of the sweat you will produce. Some shorts are more durable than others, so look for those that provide the most durability.
9 Best Basketball Shorts Reviews
Here's a list of the best basketball shorts we found on the market: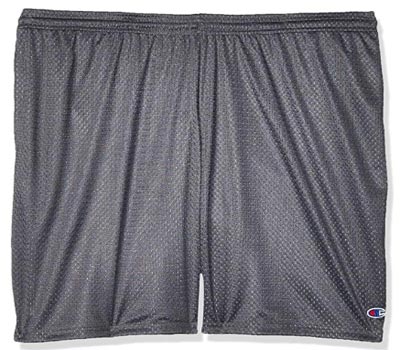 What You Will Love: They are affordable, comfortable, and come in a variety of colors.
These Champion's Men's Long Mesh Shorts with Pockets are a very affordable option compared to most brands as you can find them as low as $10.
The outline is made from mesh while the inside is lined with polyester, both providing a lot of breathability.
They are very comfortable and come with pockets, but the pockets are so deep that anything you have in there will have too much space to move.
They are also available in multiple colors but beware. Some of the colors are a little too see through.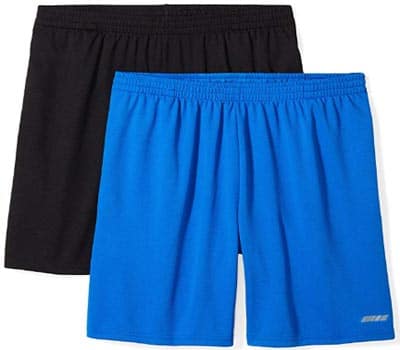 What You Will Love: These are very comfortable, moisture wicking, and very affordable.
These Amazon Essentials Men's 2 Pack Loose Fit Performance Shorts offer some very comfortable shorts at a very low price.
They are made from lightweight material that is both moisture wicking a quick dry, and you get two pairs for around $20. They seem to run a little larger than they are sized, and the stitching does not seem to last very long.
Additionally, though there is elastic and drawcord, they do not do much good as you cannot really adjust them very much.
These would probably make pretty good practice shorts, but probably not something you want to rely on during a game. 
commodo.
Best Shorts for Men with Anti Odor Technology
What You Will Love: They are constructed with a so called "4 way stretch" fabric, meaning that they move with you for added comfort.
Under Armour is a brand that is easy to love, and these basketball shorts make it a little easier.
The fabric is incredible. It is soft, and moisture wicking no matter how much sweat and how many washes they go through.
They are very agile and move as you move. The anti odor technology is an amazing thing- we all know that balling can get you stinky real quick.
Even better, they are sun resistant so they will not easily fade if you play or practice outdoors. They can get a bit expensive though as you can find them up to $100.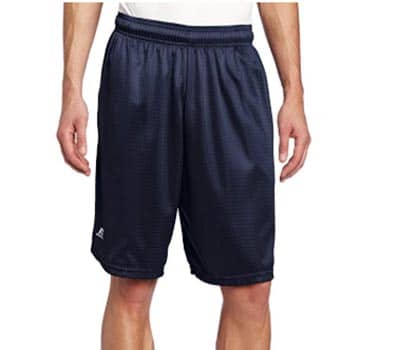 What You Will Love: These basketball shorts are incredibly durable. Do not be surprised if they are still going strong years from now. 
These Russell Athletic Men's Mesh Shorts with Pockets are a good choice for most. They are very durable and affordable, running between $12 and $36 a pair.
The material has moisture wicking properties to keep you cool and dry, but you might find them a little shorter than you like. They are made from breathable mesh and provide great ventilation.
You can wear them on or off the court as they look great and are very comfortable. Beware if you choose the white ones, though, as they are pretty see-through.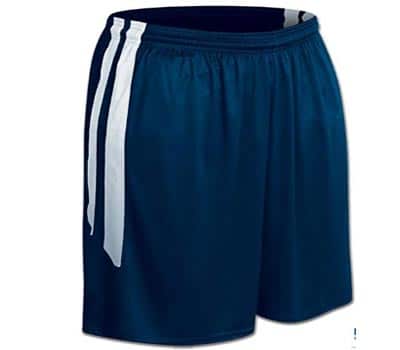 What You Will Love: They provide a silky smooth feel that is as comfortable as pajama shorts.
These Champro Women's Basketball Jersey Polyester Uniform Bottoms are a cheap option for ladies basketball shorts.
The 100% polyester material is thin, lightweight, and snag resistant. It will also keep you dry. There is a covered elastic waistband with a draw string that allows for easy adjustments.
The fit is long enough for balling, but you may find them more suitable for lounging or bed time as the material is a little thin.
Additionally, there are no pockets built in, which may or may not be an issue to you. You can find these shorts for around $10.
Best Shorts for Unisex Wear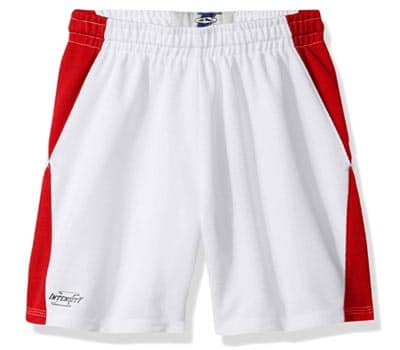 What You Will Love: They are made with machine washable, breathable polyester and mesh, and they start at really low prices.
If you are looking for a pair of basketball shorts for your kid, these are a good choice. The polyester and mesh material is very breathable, and it is machine washable.
The shorts are very lightweight, so they will not slow your child down on the court.
They do run shorter than other options, and they seem to run a little small, so you may be better off buying a half size larger. These shorts do not provide pockets, and some of the colors are see through. However, at about $5, they are still a great deal.
Best Long Basketball Shorts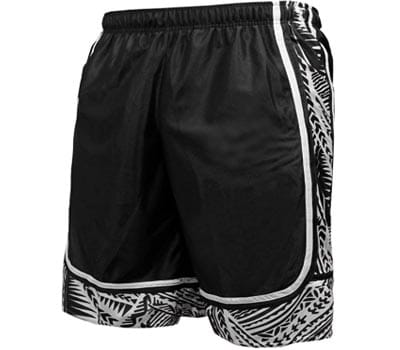 What You Will Love: The long inseam provides you with a longer short, and they are great for wide legs.
The ViiViiKay Men's Long Dazzle Basketball Training and Athletic Shorts provide a great affordable option of basketball shorts.
They are made from 100% polyester enhanced with moisture wicking properties. They are very breathable and very comfortable, so they can be worn at the gym or on a regular day.
They provide a relaxed fit but are not too wide and bulky. They are made longer for those who prefer shorts a little longer than average.
As these shorts start under $15, they are very affordable. They are also pretty stylish, offering multiple color and pattern options.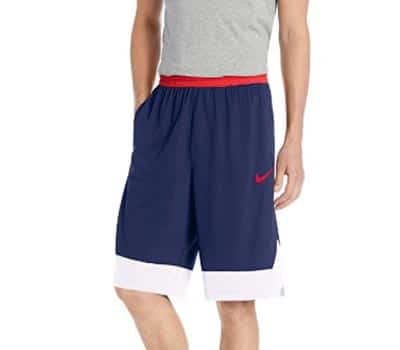 What You Will Love: The DRI FIT technology is excellent at providing moisture-wicking properties.
These Nike DRI FIT Icon Basketball Shorts are great for basketball and any other sport you might want to play.
They are made from extremely comfortable and breathable 100% polyester. There is a covered elastic waistband and an internal drawstring that you can use to tighten your shorts.
They are very comfortable whether you are training or lounging around the house. provide plenty of space to move, giving you a great range of motion, and there are side pockets.
These great shorts start at only $22, which is a great price for this brand. The only downside is that some may find the material to be a bit thin.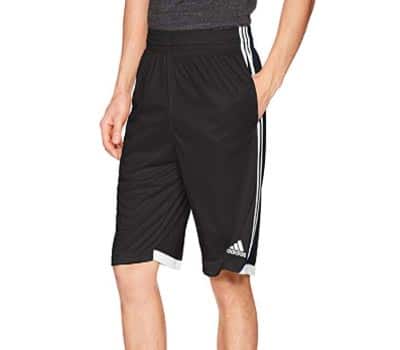 What You Will Love: These are made from Climalite fabric which is an incredible moisture wicking material.
The Climalite fabric not only keeps you dry- it also keeps you cool and comfortable. The smooth touch of the fabric is very nice.
The waistband is elastic and there is a drawstring to adjust them when you need to. They provide an 11 inch inseam, so they are nice and long shorts- though not too long. You may need to purchase a size larger as these can fit a little small.
If you are getting these shorts just for the pockets, that is not a good idea as the pockets are really not very big. They start as low as $20, so they can be affordable, but they may also go up to $100. 
Frequently Asked Questions (FAQs)
Why Do Basketball Players Need To Wear Basketball Shorts?
Basketball players, like other athletes, will sweat a lot during practice and games, so they need to wear shorts that are made to help keep them cool and dry. They also need to be able to move well, so they need to wear shorts that are designed for a wide range of motion. Basketball shorts are designed with these struggles in mind, so they make the perfect option.
What Is The Difference Between Basketball Shorts And Athletic Or Gym Shorts?
Most of them are actually the same, and many of them overlap. If you are looking for basketball shorts, be sure that they reach your knees, are not too tight in the legs, and can keep you cool and dry. 
What Is A Good Length For Basketball Shorts?
The inseam should be about 11 inches long, bringing the shorts to somewhere near your knee. Some players like them a little higher or a little lower. The main thing is making sure that they will not interfere with your ability to move up and down the court.
Which Brand Makes The Best Basketball Shorts?
It is too difficult to answer this question. There are many great brands for basketball shorts. They all offer similar and different features. The best will depend solely on your opinion and personal preferences.
The right basketball shorts can completely change your game, but it is not always easy to choose the best. Here, we have taken a look at nine great options and the factors that you should consider when shopping for the best basketball shorts for you.