We have picked the Superfeet Green Insoles- Professional Grade Inserts as the best basketball inserts as they have a deep heel cup for support and shock absorption, and they provide a great deal of stability and support. All of this helps to reduce the stress placed on your feet, ankles, and knees. Additionally, they are very durable.
Playing any high impact sports, such as basketball, can cause a lot of pain and stress on joints and ligaments. It is very important to give yourself as much support as you possible can, and that most definitely includes the support inside of your shoes. 
Basketball insoles can help reduce pain, stress, and long term issues caused by basketball. As we want to be sure you play at your safest and most comfortable, we decided to put together this review and buying guide to help you choose the best for you.
Top 7 Best Basketball Insoles: Our Picks & Recommendations
What To Look For Before Buying The Right Basketball Insoles?
We chose the following criteria to judge our options by, and they are great criteria for you to consider when shopping for your insoles:
Though we certainly hope this is not the case, you might find that your insoles are not what you need them to be. If this is the case, you want to get your money back. Check into what guarantees the manufacturer makes.
Everyone needs arch support– the only question is how much do you need. The more active you are, like when playing sports, the more support you need. Those that have flat feet or other problems will need more arch support as well.
Some people have wide feet, some have narrow feet, and some are directly in between. Whatever the width of your foot, be sure that you purchase insoles to fit .
Memory foam is an awesome thing, except when you need more support than usual. Basketball players need this support, so wearing something as soft as memory foam is not going to be good for such a sport.
Moisture Wicking/ Odor Protection
Playing basketball is also going to make your feet hot and sweaty. You do not want insoles that will actually soak up that sweat and weigh you down. Look for insoles with moisture wicking properties.
Most insoles will come in nylon, Gel, or silicone. Nylon is more firm, so it should be supportive. Gel is very shock absorbing. Silicone is soft, supportive, and very durable. .
All of the jumping and running done by a baller means that he or she needs insoles that will provide shock absorption. This will help you prevent injury and feel much less pain.
In addition to the common characteristics, you will find insoles that provide other options, such as heel lifts. You might also need insoles that are wider at the toe area. Look for anything you know that you need when shopping.
Your best bet is often to find insoles that are "adjustable" as this means that you can cut them to fit your actual shoe. However, if you are worried that you might mess them up, there are plenty of options that come as you need them to. This will be specifically up to you and your preferences.
It is easy to assume that you want the thickest insoles of all, but that is actually not the case. Insoles that are too thick can actually cause a lot of discomfort, especially if they do not fit in your shoes well. The last thing you want is insoles that cramp your feet. It is equally as important to know that just because insoles are thin does not mean that they are not supportive. Some thin insoles provide the best support there is. Try finding a mid size one if you can, as this will likely provide the best of both worlds.
7 Best Basketball Insoles Reviews​
Here's a list of the best basketball insoles we found on the market: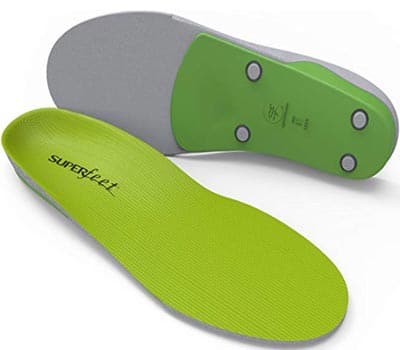 What You Will Love: These insoles are durable and supportive while providing shock absorption and stability.
These Superfeet Green Insoles are really great for active people. The deep heel cup provides plenty of support and shock absorption while reducing stress and your knees, feet, and ankles. They keep their shape for up to 500 miles of use, making them a very durable set of insoles. 
They are fully adjustable, meaning that you can cut them to your ideal size and shape. The insole is designed with a high density foam layer that cushions and supports the feet very well. The only downside is the price, as they can run up to $50.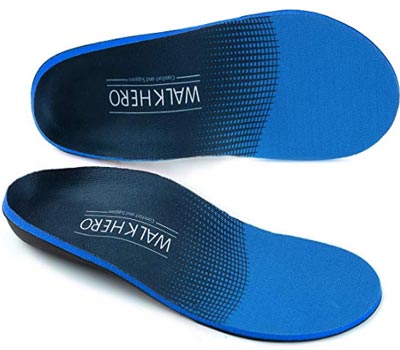 What You Will Love: They are very comfortable, very affordable, and they are great for plantar fasciitis and other issues.
These Walk-Hero Comfort and Support Orthotics Inserts are great for people with flat feet, so you know they provide support for those that do not. They provide excellent shock absorption, and are made from very thick and durable EVA gel. They are very thick, which may be good for some but not so great for others. 
The heel may need to be trimmed to feet your foot correctly. These start as low as $10 and usually do not go more than $20, so they are very affordable. Although they are excellent insoles, they come with a money back guarantee in case you find any issues with them. This is great as sometimes even the best insoles are not right for everyone.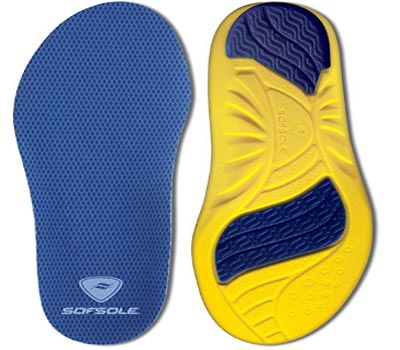 What You Will Love: They are comfortable, durable, and the arch is designed so that it will fit most people.
These Sof Sole Insoles Men's Athletic Insoles are another great option for active people and sports players. They come designed with what they call Hydrolix moisture management, which will help wick moisture away. 
However, there seems to still be some odor issues. There is a ton of cushion in the forefoot and the heel, so they are very comfortable. They stay in place when you are wearing them, which is always nice, and the great support reduces or eliminates pain. Unfortunately. 
They are pretty thick, so a lot of people will not want to wear them as they will cramp the foot. They run around $20, so they are pretty affordable.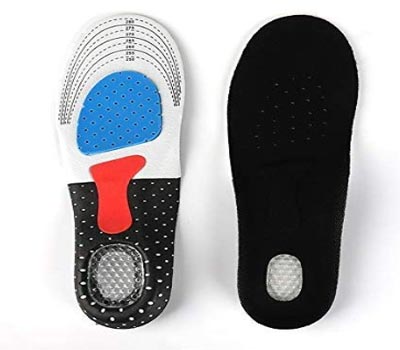 What You Will Love: They are some of the best shock absorbing insoles for this very low price range.
The Helicuang Sport Ultra Comfortable Orthotic Insole is one of the cheapest options available- they only run around $7. The holes in the insole provides a lot of ventilation, keeping your foot cool during wear, and they stay in place so you do not need to worry about them slipping down when you are playing. These insoles are designed with a U shaped heel. They also fit the deepest parts of the foot, providing a little more comfort. They are a little flimsy and not as supportive as other options, but at the grand total of about $7, they are still quite a deal.
Best Full Length for Women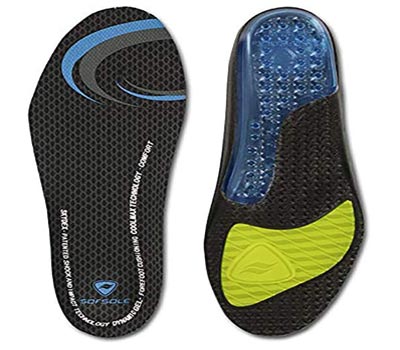 What You Will Love: These insoles come with air bubbles that are designed in the heel and arch that provide maximum shock absorption.
These Sof Sole Insoles Women's AIRR Performance Full Length Gel Shoe Insert are great for those that participate in high impact activities, such as basketball. The Skydex air bubbles support you and absorbs most of the shock you endure. 
The polymer gel in the forefoot provides maximum cushioning, and there is a stability plate in the arch and heel that help keep you moving the correct way, limiting the chance of injury. 
The top layer is made from COOLMAX fabric which will wick away moisture, keeping your feet cool and dry. The biggest issue is the price. They run between $28 and $50, so they get pretty expensive.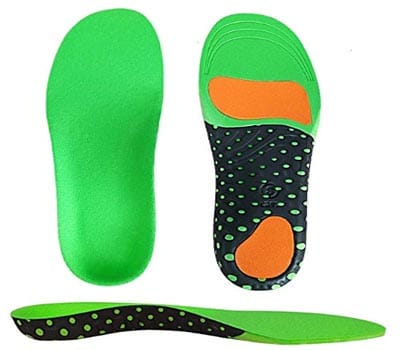 What You Will Love: They are designed for people with any type of foot issues and pain, so there is a lot of support.
These KAILEDI Orthotic Sports Insoles are both supportive and comfortable. They are designed with high quality latex free gel, and there is a deep heel cup that is both supportive and shock absorbing. 
They are contoured to fit your foot well, and the forefoot is well cushioned for comfort. You might find them a bit thin, which is not necessarily a bad thing. However, they will not feel supportive enough to some people. If they do not fit your foot or shoe well, they can be trimmed. 
They only run about $13, so they are very affordable. And, they come with a 100% money back guarantee if they do not work out well.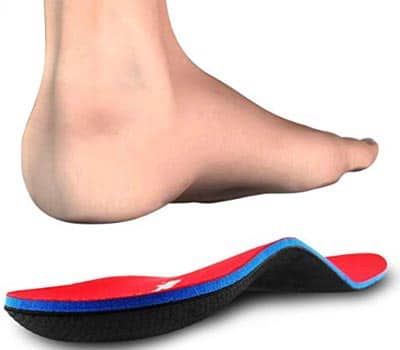 What You Will Love: These medical grade inserts offer great arch support and the deep heel cradle helps keep the bone stabilized.
These PCSsole Orthotic Arch Support Shoe Inserts provide a pretty good bit of support for strenuous or every day use. They are considered medical grade inserts that are designed to help with heel pain, arch pain, ankle pain, and other common foot pain due to plantar fasciitis and over pronation. 
The deep heel cradle provides extra support that helps keep your foot stable. There is a cushioned latex pad that provides shock absorption, and the fabric wicks moisture away keeping your feet cool and dry. They are easily movable from one shoe to another, though they may be too thick to wear some shoes. 
They are washable, though, which is helpful in preventing a build up of odors. They might also be a bit too soft, which we discussed above is not really good when you need a lot of support. They run about $18, so they are affordable. 
Frequently Asked Questions (FAQs)
What brand of insoles help with shin splints for basketball players?
There are two highly recommended insoles when it comes to shin splints: Dr. Scholl's RUNNING Insoles, and Samurai Insoles Ninja Orthotic Inserts. Either of these should be a good choice. 
What is the best brand of insoles for basketball?
Naming a brand as "the best" is not possible because everyone- and every baller- has different feet and need different things. The best brand for one will probably not be the best brand for another. However, you can start with looking at brands such as Sof Sole or even Dr. Scholls.
How much will I spend on basketball insoles?
This will vary depending on what you find comfortable. Do remember, though, that high price does not always equal high quality. On the flip side, low price does not always mean low quality. The options we have discussed here have started as low as about $7 and gone up to about $50.
Where can I buy basketball insoles?
Pretty much anywhere that sells shoes sells insoles. And you do not necessarily have to purchase insoles that say "basketball" on them for them to be good for you. Truthfully, as long as they have the criteria we mentioned above, they can be an everyday pair that you find at Walmart or CVS. You can, of course, also purchase them online. 
Should I get custom orthotics instead?
Some people completely believe in custom orthotics, believing that this is the only way to go. However, according to a lot of research that has been done, most people are not going to receive more from custom orthotics than they do from others. However, custom orthos will hurt your pockets a bit more. The biggest key with any of them is finding a pair that feels good during and after the game. Whether they are custom or not, you only need to worry about whether they support your foot.
A good pair of basketball insoles can make a big difference in your game and how you feel once it is over, but choosing some can be difficult. We have discussed the factors you should consider and seven great options so that you can choose the best basketball insoles for you.