What is the Best Baby Dish Soap?
When selecting the best baby dish soap, you want to consider things such as hypoallergenic properties, whether they are free from chemicals or at least mostly natural ingredients, and the cost. With these considerations in mind, we had to choose the Seventh Generation Dish Liquid Soap as the best baby dish soap. The ingredients are plant based, hypoallergenic, and tough on grease while being gentle enough for babies.
Our children are very important to us, and we want to do all that we can to protect them. Though we cannot protect them from everything, we can do our best to keep them safe.
Controlling what goes into their bodies is something we can do while they are little ones, but we also need to take care in what we clean their items with.
Most cleaners and dish soaps have harsh chemicals in them that can linger on your baby's bottles, pacifiers, or toys. Finding a good dish soap suitable for baby items means finding one free of those chemicals and dyes but can still get the items clean.
While there are tons of dish soaps out there, it seems only a few of them can be considered healthy and safe enough to make a list for best baby bottle soaps.
---
Quick Navigation
5 Top Baby Dish Soap: Our Picks & Recommendation
---
5 Best Baby Dish Soap Reviews
In order to find the top baby dish soap, we sifted through the ratings and reviews of both buyers and experts.
From the numerous models we assessed, we were able to get our list for the top baby dish soaps down to the following five options according to their ingredients, grease fighting capabilities, hypoallergenic properties, and safety for babies.
---
Best Baby Dish Soap Overall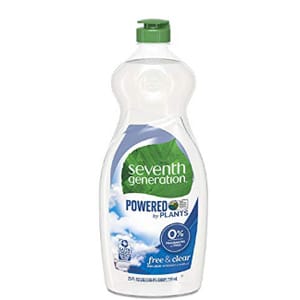 What You Will Love: It is strong enough to clean tough grease yet safe enough for sensitive skin and baby products.
Seventh Generation products are made from plants as opposed to chemicals, and this dish soap is exception.
In fact, there are many reviews from people considering this to be the best soap for baby bottles.
There are zero fragrances, triclosan, phosphates or dyes. The fact that it is hypoallergenic is great because you do not have to worry that your skin will break out from washing dishes.
As I have eczema, it is important that I stay away from dyes and other things.
This particular soap could be the answer for me. Seventh Generation dish soap is a USDA Certified 95% Biobased Product, and it is an EPA Safer Choice Certified Product, so you can trust it on your little one's dishes.

It is hard to find a down side to this product except that it may not be available in all stores.
Most online sellers wish for you to buy more than one bottle at a time, so while the price per bottle is pretty average, the initial cost is a bit high.
Pros:
Free of harsh chemicals,
Tough on grease,
Gentle on hands
Cons:
Not available in all stores,
High initial investment
---
Best Baby Dish Soap Bottle on a Budget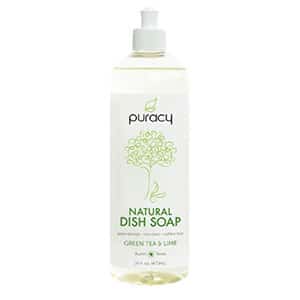 What You Will Love: It is made from natural products including coconut products, aloe vera, green tea, and lime.

Puracy Natural Liquid Dish Soap is a toxin-free dish soap that as never been tested on animals. It is plant-based, is tough on grease, softens skin, and is safe to use on all surfaces.
You can trust your baby's bottles and other items with this dish soap. It is said that a 16 oz bottle can wash over 150 sink-fulls of dishes.
It is fairly priced as well and comes in great scent options such as Lavender & Vanilla and Green Tea & Lime.
One downside: it includes benzisothiasolinone, or BIT, which some people are sensitive to. If you or anyone in your family is sensitive to isothiazolinone or its derivatives, this may not be the dish soap for you.
Check in with your pediatrician if you are not certain.

Pros:
Made from mostly natural products,
Certified Cruelty-Free,
Gentle on hands,
Tough on grease,
Great price for a lot of loads of dishes,
Great scent options.
Cons:
Contains an ingredient some are allergic to
---
Best Organic Baby Dish Soap Bottle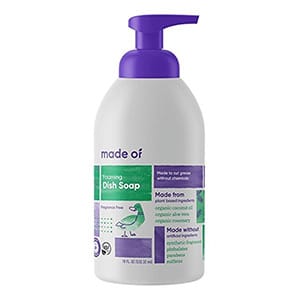 What You Will Love: This company seems to have most, if not all, allergies covered.
MADE OF Foaming Organic Dish Soap is NSF Organic, Gluten Free, Vegan, and EWG verified as well as non-GMO, soy free, sulfate free, nut free, and paraben free.
It is a great choice for those with sensitive skin and/or eczema as it does not contain any artificial fragrances.
You can choose between Sweet Orange, Lavender, or Fragrance Free.
It has been both tested and recommended by pediatricians and dermatologists, and customers rave about its grease fighting abilities.
Usually priced somewhere around $8 – $10 a bottle, it is a little steep, but parents do not mind paying for it thanks to all of its benefits.
Pros:
Free from most common allergens,
Gluten free, vegan, EWG verified, NSF organic,
Tough on grease,
Great fragrances,
Recommended by pediatricians,
Great for sensitive skin and eczema
Cons:
---
Best Ecological Baby Dish Soap Bottle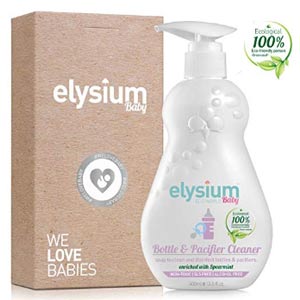 What You Will Love: This natural antibacterial soap comes with a money back guarantee if you are not satisfied.
Elysium Premium Natural Baby Bottle and Pacifier Cleaner is safe to use on all your baby's bottles, pacifiers, and any surface he or she may touch.
It is 100% ecological and is not tested on animals.
It is also antibacterial and vegan as well as alcohol free and paraben free. The bottle comes with an ergonomic pump that produces a rich lather.
The soap rinses clear, leaving no residue behind on your baby's items.
The only downside is that it is a bit pricey with one baby bottle soap costing between $16 and $20.
Pros:
Vegan,
100% ecological,
Not tested on animals, antibacterial,
Alcohol free, paraben free,
Ergonomic pump,
Rinses clear
Cons:
---
Best Phosphate Free Baby Dish Soap Bottle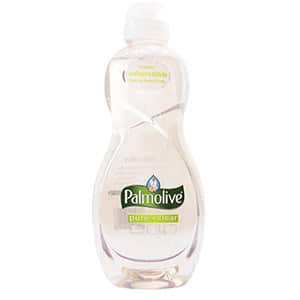 What You Will Love: This dish soap is both tough on grease and soft on hands.
Palmolive Ultra Pure and Clear Dish Liquid is made of biodegradable ingredients and is phosphate free. It is free from any unnecessary chemicals and free from heavy fragrances.
Palmolive Ultra Pure and Clear Dish Liquid is soft on your hands, hypoallergenic, and tough on grease. There really does not seem to be any downsides except for a misunderstanding.
Many buyers expected it to be fragrance-free. However, it only claims to be free from heavy fragrances, meaning that there is some fragrance- it is just not as strong as other dish soaps.
Pros:
Tough on grease,
Soft on hands,
Biodegradable ingredients,
Free from heavy fragrances, hypoallergenic,
No added color
Cons:
Not fragrance-free like many expect it to be
---
We know your baby's health and safety is important to you. That is why we brought you a list of what we consider to be the best baby dish soaps. Any time you are in doubt, check with your pediatrician.
---
Related Articles:
---