What is the best air compressor hose?
We have picked the Giraffe Tools Industrial Non-Kinking Air Hose as the top air compressor hose as it is made from two tough hybrid layers on the outside and a woven layer in between for added durability. It is flexible, lays flat, can handle extreme temperatures, and has tough aluminum fittings. As a bonus, it is a very budget friendly option.
---
Your air compressor hose can affect your quality of work in either a positive or a negative way. It is important to choose the best air hose for your needs, but with so many options, it can be an overwhelming process. We do not want you to be overwhelmed, so we put this buying guide together for you.
In this article, we discuss the different air hoses available, and the benefits of each type. We listed the criteria we feel are important to your purchasing decision, and we review seven great air hose options for your consideration.
With this guide, you can ditch the overwhelm and choose the top air compressor hose for your needs.
---
Quick Navigation
Top 7 Best Air Compressor Hoses: Our Picks & Recommendations
---
How to choose the right air compressor hose
The following are criteria to consider when looking for your air compressor hose:
Length
There are hoses as short as a few feet and can go over 100 feet, so there is no standard size. It really comes down to the length and amount of leeway that you need or prefer. For most people, a longer one is much better, so there is no need to purchase an extension hose later. They would rather have too much length than not enough.
Inside diameter
The most common inner diameter is ¼ air hose, though you will also see diameters of 3/8 of an inch. For most people, the ¼ inch diameter is plenty, and it makes the hose a little more lightweight.
Where it will be used
The environment in which the hose is used will affect the type of hose you need. For instance, industrial purposes and locations should consider nylon hoses that recoil but a rubber host might not be good for that type of atmosphere.
Material
Three main hose materials are a hybrid hose, polyurethane hose, and PVC hose. The hybrid hose is actually a mix of polyurethane, PVC, and rubber. It is both flexible and durable. A Polyurethane hose is also lightweight and durable, those not necessarily as flexible as the hybrid.
The PVC hose is a very popular option since it is so durable and abrasion-proof. Unfortunately, it is not as flexible as the other options. Rubber has been around for a long time- they are just like the hoses you might use in your yard.
Rubber hoses are extremely flexible and durable, do not kink, and can be coiled and uncoiled easily. They tend to attract dirt and other mess that they can track across the floor, though.
Weight
You want durable but not at the expense of muscle fatigue due to carrying around a heavy hose. Rubber is going to be the heavier option. Polyurethane is probably the lightest.
---
7 Best Air Compressor Hoses Review
Here's a list of the best air compressor hoses we found on the market:
---
Best Overall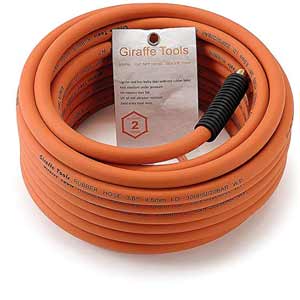 What You Will Love: This air hose is made from two-hybrid layers with a woven middle layer that makes it incredibly durable.
The Giraffe Tools Rubber Hybrid Air Hose is both very durable and flexible. It can easily be uncoiled and it lays flat.
The fittings are made with tough anodized aluminum, it has a bright outer layer for easy visual, and it is good in temperatures from -60 degrees to 160 degrees. It is a low-cost option, and it comes with a two-year warranty. The only downside is the very strong odor that lasts for a while.
What We Liked:
Bright and dirt-resistant outer layer
Two-hybrid layers
Good with temps from -60 degrees F to 160 degrees F
Low-cost option
Durable anodized aircraft aluminum fittings
2-year warranty
Easy to uncoil and lays flat
300 psi
What We Did Not:
---
Best Budget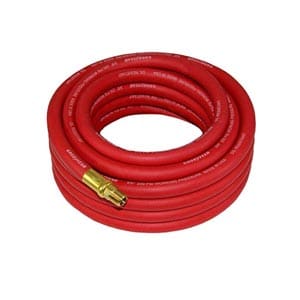 What You Will Love: This air compressor hose comes from a brand well-known for its quality, and this air hose does not disappoint.
The Good Year Rubber Air Hose is made from extremely durable rubber and a spiral synthetic yarn reinforcement. Though it is tough, it is still flexible enough to easily coil. It is kink resistant, and weather and oil resistant.
There have been a couple of complaints about air leaking on the ends, but those complaints are few and far between. Also, expect it to be heavy as the rubber makes it pretty weighty. At around $30, it is not the lowest cost option but it is not expensive either.
What We Liked:
Weather and oil resistant
Trusted, well-known brand
Durable and flexible
Kink resistant but easily coil
What We Did Not:
---
Best Hybrid Air Compressor Hose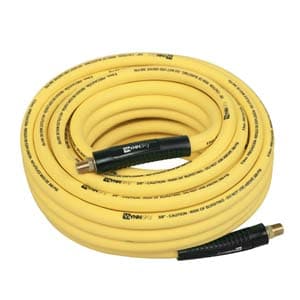 What You Will Love: The rubber and PVC combination makes this hose very durable and flexible.
The WYNNsky Hybrid hose that is both lightweight and heavy-duty. Though this hose is made with some PVC, it is actually a very lightweight option.
The great blend reduces kinking and is very flexible. The solid brass fittings on the ends of the air hose add to the durability. It provides up to 300 psi and comes with a one year warranty- all at a low price.
Users state that it does not do well under constant use, so have a back up if you need one that can go longer.
What We Liked:
Lightweight air hose
Reduced kinking
Solid brass fittings
Rubber and PVC blend
1-year warranty
Good price
Up to 300 psi
Flexible
What We Did Not:
Does not seem to stand up to constant use
---
Best Retractable Air Compressor Hose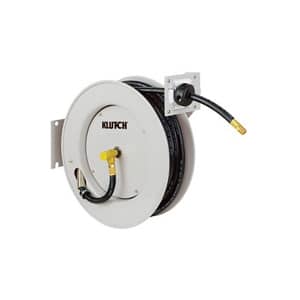 What You Will Love: The reel is made from heavy-duty steel construction and a corrosion-resistant powder-coated finish to add to the durability.
The Klutch Auto Rewind Air Hose and Hose Reel are great companions at home or on the job site. The 50' hose provides up to 300 psi.
The reel has a ball bearing swivel joint, an auto rewind mechanism, and it can be mounted to the wall for much less clutter.
There is also a guide arm to improve stability, and four directional rollers to reduce the wear and tear on the hose.
There is not much bad to say about this unit, except that price is close to $200- a very high amount for most budgets.
What We Liked:
Sturdy steel reel
Auto rewind
Adjustable rubber stop
300 max psi
Ball-bearing swivel joint to reduce friction
What We Did Not:
---
Best PVC Air Compressor Hose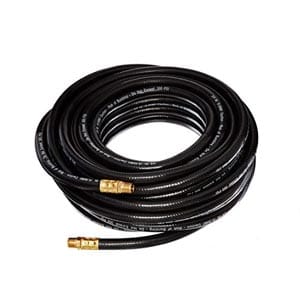 What You Will Love: You get a great kit with pretty much anything you need for a very low price.
The Primefit IK2004-2 PVC Air Hose comes with an incredible 25 piece accessory kit that will get most people started, and it has a storage case.
It is lightweight as well as stain and oil-resistant, so you need not worry about using it at a job site or in a factory.
The biggest, and possibly the only, issue with this set is that the included gauge may not work properly. It does, though, come with a one-year limited warranty at a great price.
What We Liked:
Includes a 25 piece air accessory kit and storage case
Good price
One year limited warranty
Lightweight
Oil resistant
What We Did Not:
Tire gauge does not always work properly
---
Best Flexible Air Compressor Hose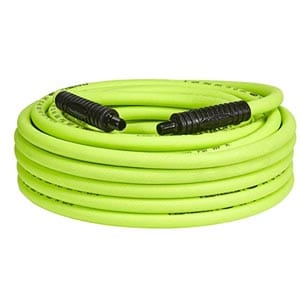 What You Will Love: This air hose is super flexible yet very abrasion-resistant.
The Flexzilla Zilla Green Hybrid Air Hose brings some of the best of each material it's made from. It is lightweight but can provide 300 psi.
The hybrid polymer material is extremely flexible but it is tough enough to resistant outer abrasions. When not in use, it lays flat and coils easily though it is kink resistant.
It can stand up to extreme temperatures from -40 degrees to 150 degrees. Some buyers have complained of a leak, but there is a 2-year limited warranty that should cover that.
With multiple lengths and diameters available, there is a variety of prices, but this air hose is along with the same prices at most of the others on the list.
What We Liked:
Lightweight and flexible
Stands up in extreme temperatures
Kink and abrasion-resistant outer cover
100 psi
Versatile
Lays flat
Hybrid polymer
Superior bend
2 year limited warranty
What We Did Not:
---
Best Polyurethane Air Hose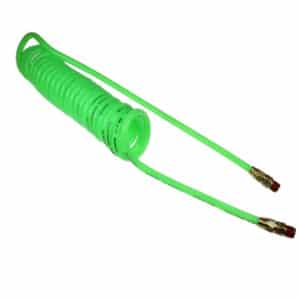 What You Will Love: This air hose is designed to recoil when not in use, but the tails are straight to prevent any additional wear around the fittings.
The Coilhouse Pneumatics Flexcoil Air Hose comes in multiple sizes and lengths giving you the mobility you need. It provides up to 125 psi, which is good for many things.
However, it is best to always check the requirements of your tools prior to purchasing any hose. It resists kinking, abrasions, and weathering, and can stand up well in temperatures from -40 degrees F to 165 degrees F.
As the sizes vary so do the prices, but most buyers report that it is a very low-cost option for such quality. The only downside I could find is that some buyers expected it to be more flexible than it is.
What We Liked:
125 psi
Works from -40 to 165 degrees F
Coiled polyurethane
Persistent coil memory with straight tails for increased life of the product
Brass swivel fittings on each side
Resists kinking, abrasion, weathering, and more
What We Did Not:
Some say it is not as flexible as they expected
---
Frequently Asked Questions (FAQs)
What type of air compressor hose is best?
There is not really a one size fits all to this question, but hybrid air hoses definitely rank close to the top. With the mix of materials that comprise the hybrid hose, you get a great mix of flexibility and durability.
What size air compressor hose do I need?
This really depends on the tools you are using. If the tool needs a lot of compressed air flowing at one time, you will most likely need a 3/8 inch. Your tools should clearly state the airflow requirements, so check those before purchasing.
What is a hybrid air hose?
A hybrid hose is one made from a mix of rubber, PVC, and Polyurethane. The result is a combination of flexible and durable, and it does not kink up. It can also withstand temperatures as low as -40 degrees F.
Do air compressors come with hoses?
Some do, but others require you to purchase a hose separately. Some come with short hoses, so the user will buy a longer one to replace it, or an extension hose.
Why should I use an air compressor hose?
If you have an air compressor, you need an avenue for the compressed air to move through. They are a necessity with an air compressor, but you have some freedom in the type you purchase.
---
Conclusion:
Getting the right air compressor hose for your compressor and your needs is important- that is why we put this guide together. We have discussed the characteristics to look for in an air compressor hose and introduced you to eight great options to help you find the best air compressor hose for your needs.
---
Related Articles:
---