What is the Best 12V Air Compressor?
We have picked the Viair 88P Portable 12V Air Compressor as the top 12V air compressor as provides both a long power cord and a long air hose that make it easy to move around your vehicle. The compressor connects directly to your battery and can inflate tires up to 33" with ease.
---
Getting caught in the middle of nowhere with a low or flat tire is not only frustration. It can also be frightening when it is dark or you are in an unfamiliar area. Everyone who drives should have a 12V air compressor in their trunk that is powerful enough to inflate their tires.
Not all 12V air compressors were created equally, so it is important to get the one you need, especially if you are relying on it to get you home. There are quite a few options available that offer a variety of features and benefits.
This article will help you understand those features, determine which factors should be considered, and decide on the top 12V air compressor for your vehicle and needs.
---
Quick Navigation
Top 9 Best 12V Air Compressors: Our Picks & Recommendations
---
How to Choose the right 12V Air Compressor
When you are shopping for a 12V air compressor, consider the following factors:
Types
Two common types of 12V air compressors are:
Plug-In: The plug in type will remain plugged into your vehicle's cigarette lighter compartment as you inflate your tires. Plug in ones are more powerful than the battery powered ones, but you have to make sure that the plug can stretch from inside your car to each tire.
Battery Powered: Battery powered options are more compact than plug in options, but they are less powerful and have to be charged. These are not good for large tires, and they will take a while to inflate regular tires.
Portability
The most common use for 12V air compressors is keeping them in the car for tire emergencies. Due to this, most of them are compact and lightweight.
The smaller your storage space in your car, the more compact you want you 12V air compressor to be. There are also less compact ones that are more powerful for those with more space.
Power
Pumping bicycle tires takes a lot less power than pumping a car's tires. Likewise, a car's tires require less power than bigger tires. The level of power you choose should match what you will be using it for.
Units of Measurement
There are a few units of measurement that affect the quality of the compressor.
PSI: PSI means pounds per square inch, which basically tells you how pressurized something is or needs to be.
CFM: Cubic feet per minute, or CFM, measures the amount of air coming out of the compressor.
Decibels: Decibels refer to the noise level created by the compressor. While air compressors, in general, can be pretty loud, some of them- including 12V air compressors- are much quieter.
Gauge Legibility
You need to be able to easily see and read the gauges so that you do not over or under inflate.
Gauge Accuracy
The 12V air compressor's gauge is what will tell you when you have reached the desired inflation point. You need it to be accurate so you do not under-inflate or over-inflate.
Work Light
If you are stuck on the side of the road at night time, you want a work light so you can see what you are doing.
Thermal Protection
Thermal protection means that the air compressor shuts down before it gets too hot to function properly.
Tire Inflation Speed
An air compressor's tire inflation speed refers to the amount of time it takes it to get the tire from flat to inflated.
Carrying Case
A carrying case is not a necessity but it can be handy. All of the attachments and accessories can be kept together with the compressor.
---
9 Best 12V Air Compressor Reviews
Here's a list of the best 12V air compressors we found on the market:
---
Best Overall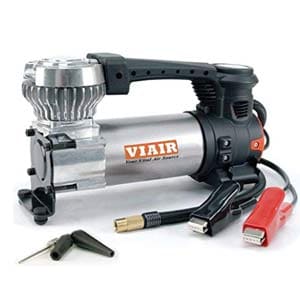 What You Will Love: The cords are long enough to easily move around average size cars, and it is easy to use.
The Viair 12 V air compressor is a handy on the road tool. It provides 120 PSI and can inflate car tires up to 33 inches in size.
The 10 ft power cord attaches directly to your car battery and gives you enough leeway to move around your vehicle, as does the 16 ft hose.
At around $70, it falls in line with other 12V options, but there are a couple of concerns which make the price seem too high. First, a couple of units have arrived with air leaks somewhere.
Second, a few buyers complained that their unit quit after just a few uses. However, there is no certainty as to how many a "few" is in these instances, and there were even more buyers loving their choice.
What We Liked:
120 PSI
Powerful enough to inflate tires up to 33"
10 ft power cord- connects to battery
16 ft air hose
What We Did Not:
Air may leak
May not last long
---
Best Budget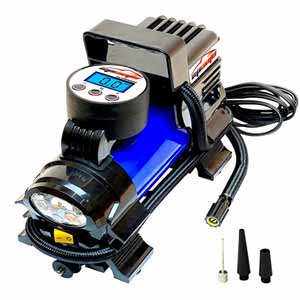 What You Will Love: It has four easy to read displays for PSI, KPA, BAR, and KG/CM.
The EPAuto 12V DC Air Compressor can inflate small bicycle tires up to midsize SUV size tires. It comes with additional needles that fit inflatable pool items, sports balls, and more.
There are four easy to read displays that keep you informed of your levels. The auto shut off value prevents over-inflating and it has overheat protection when its overloaded.
It also comes with a bright, LED flashlight that can illuminate your workspace, making it much easier to inflate your tire and get back on the road.
There was a complaint about the threads inside the hose attachment eroding and a couple of faulty units dying too soon.
However, their replacement units worked fine. At less than $35, it is a great price that can squeeze into most budgets.
What We Liked:
Good price
Good for up to mid-size SUV
4 easy to read displays
Auto shut off
Overheat protection
LED flashlight
What We Did Not:
Threads inside hose attachment may erode making it useless
---
Best Battery-Powered 12V Air Compressor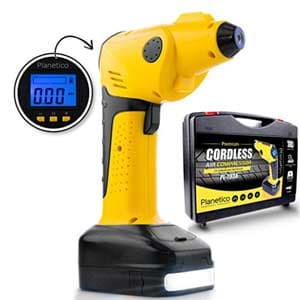 What You Will Love: This unit is designed to keep your hands free while inflating.
The Planetico Cordless Air Compressor is a wonderful choice for keeping in your car. The Li-Ion battery holds a charge up to 12 months when it is not in use.
This means that, unless it has been in your trunk for more than a year, it is ready to go when you are. It comes with both a short and long hose and a case that the compressor and accessories fit into for easy storage.
It provides up to 150 PSI but tops out around 102 PSI on cars. It can be recharged at home in a regular wall outlet. The handle is ergonomically designed for comfort, and the built in tire pressure monitor system will prevent over inflation.
The biggest downfall is that if it does the overheat protection shuts it off, there is a 10 minute cool-off period.
That would not be very fun if you are sitting on the side of the road. It is also a little pricey but within range of other options.
What We Liked:
Cordless with battery that stays charged for 12 months
Battery charged in 2 hours
USB power bank
Flashlight
Short and long hose
Fitted tool case
Ergonomic handle
Tire pressure monitor system
Hands free
What We Did Not:
10 minute cool off period
---
Best Battery-Powered 12V Air Compressor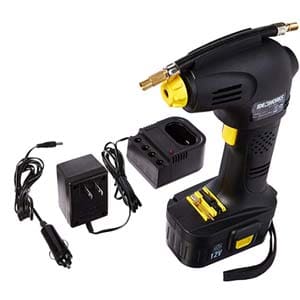 What You Love: You can charge it on the go with your car's lighter outlet or at home with a regular wall plug.
The IdeaWorks Electric Air Compressor comes with a built in pressure gauge to let you know when you have reach the desired PSI.
Its cordless design provides a lot of mobility without worrying about stretching out cords far enough. The slim and compact design make it great for small storage spaces, or in your trunk without sacrificing space for other items.
There are some concerns about its performance, though. First, it is reported to takes too long to fill a regular car tires. Users have been becoming annoyed with the amount of time it takes.
Second, not everyone's gauge came working. At under $40, it might make a good back up but you probably want a main one that is more powerful than this.
What We Liked:
Cordless
Built in easy to read gauge
Charge in car cigarette lighter or in a regular plug
Slim and compact
Good price
What We Did Not:
Takes a long time to fill
116 Max PSI
---
Best Portable 12V Air Compressor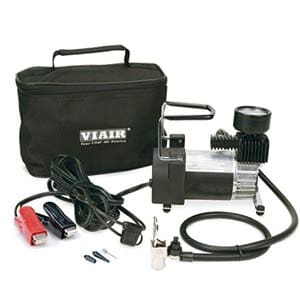 What You Will Love: The 12 ft power cord provides space to easily move around a regular sized vehicle.
This Viair 90P Portable Compressor provides 120 PSI max working pressure. It comes with alligator clamps that connect directly to your battery, and the 12 ft power cable provides enough length to get around most average vehicles.
For good results, you need to keep the car running while using the air compressor. Some people have only been able to use it this way, which means your gas is running out while you are pumping your car tire.
This is especially bad when users complain that it takes a while to fill up. Though it comes with a carry bag, it is a little big and clunky, so it may be difficult to store. At about $80, it is a bit expensive
What We Liked:
12 foot power cord
5 ft air hose attached
Deluxe storage and carry bag
Plugs directly to battery
What We Did Not:
High price
Should run car while in use
A little clunky and slow
---
Best Hands Free Digital Car Tire Air Compressor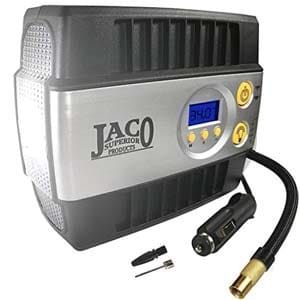 What You Will Love: It inflates tires at a rate of 25L per minute, getting you back on the road quickly.
The JACO Superior Products SmartPro Air Compressor features Smart Pressure Technology that will shut the air compressor off when the desired PSI is reached.
It can inflates regular car tires up to 45 PSI and bike tires up to 100 PSI at a speed rate of 25L per minute. It is created to let you hook it up and step away instead of having to hold it the whole time.
There is a 10 ft power card and 24" woven air hose to give you the space you need to move around your car to each tire. It is equipped with a digital air gauge, and an LED light that has four settings: off, emergency SOS, flashing red, and flashlight.
It is a great tool to keep in your car, small truck, or SUV. The one downside is the price- close to $100- but it is durable and accurate.
What We Liked:
Smart Pressure Technology
Car tires up to 45 PSI
Bike tires up to 100 PSI
Inflates at rate of 25L per minute
Built in digital air gauge with bright backlight
Hands free
10 ft power cord
LED light with 4 settings
24" woven air hose
What We Didn't:
---
Best Lightweight Digital Car Tire Air Compressor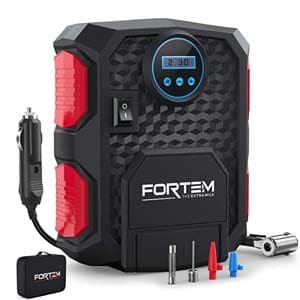 What You Will Love: This compressor comes with a built in flashlight and a convenient carry case.
The FORTEM Digital Tire Inflator is an affordable, compact, and lightweight air compressor. It plugs into your car's cigarette lighter, and the power cord gives you 10 ft of leeway. The auto shut off system will prevent any over-inflating.
The bright LED flashlight provides a well lit workspace if you are stuck on the side of the road when it is dark. At approximately $34, it is an affordable option.
The downside is that it only provides six to eight minutes of continuous use before needing to be refilled. This may not be enough for use if you have more than one low tire.
What We Liked:
Affordable
Carry case
Auto shut off
Multiple nozzle attaches
Built in LED flashlight
Durable yet lightweight construction
Power cord right at 10 ft long
What We Did Not:
Only provides 6 to 8 minutes continuous use
---
Best Heavy Duty Air Compressor with Long Cord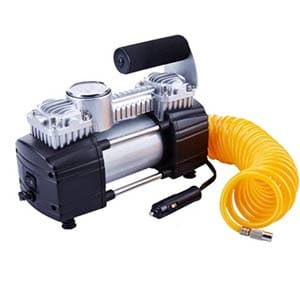 What You Will Love: This air compressor comes with stability technology that prevents the unit from moving while in use, which makes it quieter and more powerful.
This Tirewell 12V Heavy Duty Tire Inflator provides up to 150 PSI, and works well on everything from bicycles to trucks and RVs.
It has a double cylinder direct drive inflation pump, which improves the efficiency of the air compressor, and the stability technology uses a four rod design to reduce noise and vibration.
It is also very compact and has an 11.5 ft power cord. Though it is powerful and can inflate many tire types and sizes, it id not very fast about it.
Also, after about ten minutes of use, you should give it a break. It plugs into a 12V cigarette lighter and has alligator clamps to connect directly to the battery. At under $70, it is a mid-level price. It is nowhere near the most expensive, but there are cheaper options, too.
What We Liked:
Up to 150 PSI
Stability technology
Rubber feet
Double cylinders direct drive
Efficient
Compact
Quiet
Great for bicycles to RVs
11.5 ft power cord
What We Did Not:
Not very fast
Mid-level price
---
Best Heavy Duty Air Compressor with LED Lighting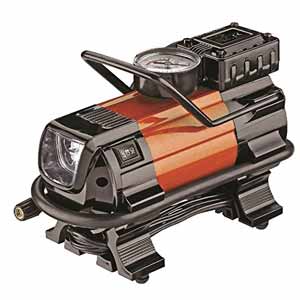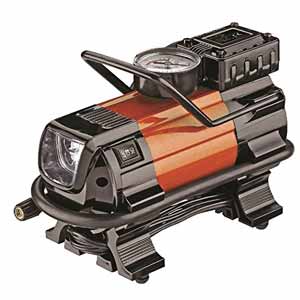 What You Will Love: It is very fast, very compact, and has built in hose storage.
The Cartman Car Air Compressor is a very budget friendly option that has four LED lights built in for visibility at night time. It is compact and has a carry handle for easy portability.
It also has built in storage sections for the hose and the adapter, making it even easier to store out of the way and keep up with all of the parts.
It has two adapter nozzles for versatile use, including sports equipment. It is said to be more powerful and faster than normal compressors. Quite a few users have stated that it does not last very long, so it probably should not be considered a permanent solution.
However, at about $30, it is no surprise that it is not built to last long term. The low cost means that some things will be sacrificed.
This might be a good back up compressor, or, as it is so low cost, it might not be a bad idea to buy a few at a time if you like its features.
What We Liked:
Budget friendly
Built in LED lighting
Built in air hose and adapter storage
Compact size
Carry handle
Inflates fast
What We Did Not:
---
Frequently Asked Questions (FAQs)
What size air compressor do I need?
The size you need depends on the tire size or other project. For tires, you can easily check the side for the maximum PSI and look for the correct size. When purchasing, the max PSI the compressor gives can be more than the required PSI. However, if you purchase one that provides less, your tire will remain flat.
How much is an air compressor?
The prices vary greatly. Some are around $30 and others go into the hundreds or thousands. For personal use, you can use something on the cheaper side. Remember that more expensive is not always better. At the same, going too cheap means you will be sacrificing other features.
What is the best 12V air compressor for a service truck?
The best we have found so far is the Tirewell 12V Double Cylinder Heavy Duty Compressor. It is powerful enough to inflate large truck and RV tires, and it comes with a long cord to move around you service truck.
Where can I buy a 12V air compressor?
You have a lot of options. You can always purchase online at stores like Amazon. Any stores that are geared toward outdoors will likely have some. You might also look at hardware stores such as Lowe's or Home Depot.
What is the best 12V air compressor for auto?
We consider the Viair 88P Portable Air Compressor to be the best for auto. It connects to your battery for a direct power source, can inflate tires up to 33", and it has long cords for moving around your vehicle with ease.
---
Conclusion:
There are many great options for 12V air compressors, but not all will be right for you. Through this article, we have discussed features and characteristics to consider and looked at nine great options to help you find the best 12V air compressor for your vehicle.
---
Air Compressor Related Articles:
---