Quick Summary: Clean water is an absolute necessity in today's age. With so many different companies selling different kinds of "pure" water, it's hard to decide which brand to gravitate towards. After going through several reviews, we've come to the conclusion that Megahome Countertop Stainless Steel is the best water distiller the market offers. It not only removes the additives and chemicals in your water efficiently but also easy to use and energy-saving.
It's important to have the best water for you and the whole family. Choosing one of the best water distillers online is a huge way to look after your health. It's worrying to think how tap water is filled with chlorine, fluoride, pesticides, hormones, and pharmaceuticals, as well as other chemicals.
The best way to protect your body from these is by making a worthy investment into a top quality water distiller. This will purify water and remove all chemicals and contaminants so that you can rest assured that you have the cleanest water possible.
Before browsing our top 10 list it's helpful to bear a few things in mind to inform your decision. How much water do you get through in a day? If it's a lot go for a distiller that holds 4 litres.
If you choose a machine that distills at 212 degrees Fahrenheit this increases purification. Then think about ease-of-use because a distiller that comes with a water jug and an auto-off feature makes all the difference!
Our best water distiller reviews includes the best your money can buy so that you can quickly decide which is best for you. Read on…
Quick Navigation:
---
Comparison Of 10 Best Water Distillers
| | | |
| --- | --- | --- |
| | Prioritize your safety with this Underwriters Laboratory approved Megahome water distiller. It fits easily onto your countertop and distils 1 gallon of water every 5.5 hours ensuring you have properly distilled, contaminant-free water at home. | Read Our Review |
| | If you want to make sure your water is completely free from toxins and contaminants, then this countertop water distiller is the perfect choice for you. It distils your water at 212 degrees Fahrenheit for maximum cleanliness. | Read Our Review |
| | Safety first with the only FDA-approved water distiller on Amazon. Drink directly from your distiller with its easy to use straight from the machine drinking water process to minimize fuss. | Read Our Review |
| | This handy and portable stainless steel is one of the best water distillers which features a healthy glass water jar that distills water for you anywhere you are. The water distiller operates quietly and reliably every cycle.. | Read Our Review |
| | This water distiller carries the aesthetics and reliability that you need in your household. It's easy to operate interface ensures that your home always has clean, purified water without fuss. | Read Our Review |
| | This highly efficient little machine is one of the most efficient water distillers you'll find on the market.Its auto-off feature ensures you don't waste energy while holding four liters of fresh, purified water. | Read Our Review |
| | You can never go wrong with the best overall rated water distiller in its class. This H2o Labs water distiller ensures easy operation with little maintenance while providing you with functionality and quality that is unparalleled. | Read Our Review |
| | Reliability is never an issue with this H2o Labs water distiller. The exclusive activated carbon pods have a lifespan that is twice its competitors and contains thrice the amount of filtering media. | Read Our Review |
| | This super efficient and reliable device is handy and guarantees distilled water with little to no maintenance. The auto-off feature ensures you don't have to worry about forgetting to turn it off or set a timer. | Read Our Review |
| | If you're looking for top-notch convenience, then look no further. This ultra-convenient water distilling device features a lightweight, lift-out and easy to fill water holding tank that connects to a continuous water-feed valve. | Read Our Review |
---
Reviews of Top 10 Water Distillers
Those who drink distilled water regularly knows the pain of finding the perfect countertop water distiller. To find the best, we sorted through the ratings and reviews of both buyers and experts. Here are the top 10 picks from our best water distiller reviews.
Best Overall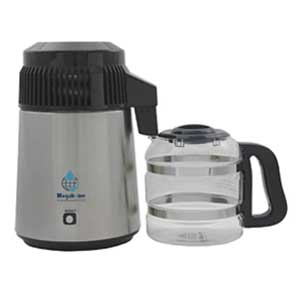 What You Will Love: The Megahome Countertop distiller is an attractive option with its stainless steel exterior.
The manufacturer states that the unit is UL listed and that the distilled water never comes in contact with plastic at any point in the process.
It produces a gallon of properly distilled water over five and a half hours.
The slower distillation process guarantees that more contaminants are removed by the process. It features a large glass collection container and even the spout is glass-lined.
It is a reliable unit with good customer service backing up repair requests. It is one of the most expensive options, but you get what you pay for when considering other distillers on the market.
Pros:
Attractive design
No plastic parts in the distillation process
Produces 1 gallon through the proper process for best results
Cons:
Most expensive
Slow distillation process takes over five hours for one gallon
Glass container is heavy-hard to pour when full
---
Best Budget
What You Will Love: This version is simply the white version of the Megahome stainless steel water distiller.
The exterior is white plastic, but that does not interfere with the distillation process. It looks very nice in a kitchen with matching white appliances.
The cost is slightly lower than its brother, making it a good buy for the money if you are not concerned about matching your stainless steel kitchen.
The collection container is glass but features a matching white plastic handle for a unified appearance.
Once again, this one guarantees no plastic parts are involved in the distillation process and it is UL listed, providing safe, reliable performance with a good customer service department.
This home water distiller requires consistent cleaning to provide the best tasting water.
Pros:
Slightly lower price
Clean white exterior
Glass collection container
Cons:
Must be cleaned after each use
Heavy collection container
Glass dispensing nozzle can be difficult
---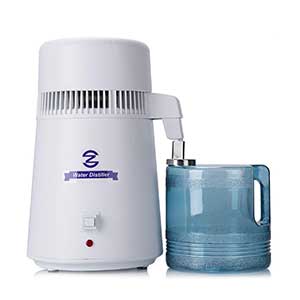 What You Will Love: For about half the price, this produces distilled water at about the same speed.
The real differences here is that the collection contained included with the set is a plastic bottle like the ones used for commercial bottled water delivery.
Where the price difference shows are in the durability. The co z water distiller may simply stop working after just a few months and customer service is difficult to contact.
The manufacturer does not sell replacement filters or products, so if you run into a problem, you will probably have to replace the pure water mini-classic.
That said, the CO-Z pure water mini classic has a good reputation and many have had their units operate without a problem for years.
If you only need small amounts of distilled water to maintain batteries or for medical devices, this pure water mini classic co z water distiller could be the best choice for your home.
Pros:
Low price point
Boil chamber is made of stainless steel
Collection container included
Cons:
Not the most reliable unit
No replacement parts available
Poor customer service
---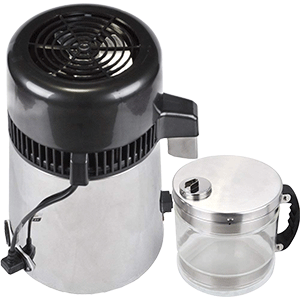 What You Will Love: This is priced moderately, so it appears to be a reasonable investment at the outset.
The boiler has a stainless steel chamber and the collection container is made out of glass.
Unfortunately, the product is not UL listed and contains several plastic parts and gaskets that may affect the flavor of the distilled water.
It does arrive with a manual, but replacement parts and response to service requests may be slow in coming.
The exterior is stainless steel, but the top is a large black plastic piece that can make it appear more commercial than other kitchen appliances.
Pros:
Stainless steel exterior and boil chamber
Glass collection container
Moderate price
Cons:
Not UL listed
Customer service can be slow
Plastic parts can affect flavor
---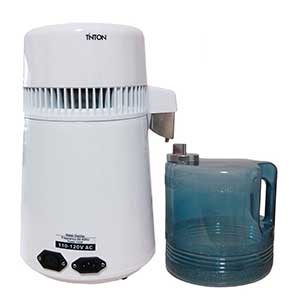 What You Will Love: The Tinton is a value-priced distiller that has the smallest footprint of units reviewed here.
It has an attractive white exterior and produces the gallon of distilled water in about four hours.
All parts are metal, including its fan blades and the product has been safety tested. It does not come with a collection container.
Over time, the onboard fan can become unbalanced which can cause the unit to move on the counter, misaligning the dispenser with the collection container.
This includes an auto shutoff that prevents the unit from overheating and potentially melting.
Pros:
Low price point
Stainless steel boil chamber
All parts are metal
Auto shut off feature
Cons:
Fan can become unbalanced
No collection container included
Short return policy
---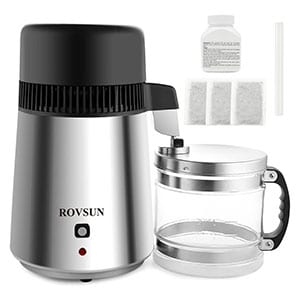 What You Will Love: What customers love about this product is how ROVSUN provides 3 special gifts along with the product, including 3 activated charcoal sachets that remove contaminants from the water, a soft catheter that prevents leakage, and a chamber cleaning powder which keeps the unit clean.
With a one year warranty, this is a durable product that will pass the test of time. It's various features and easy to use design make this a household necessity.
Easy Operation
All you have to do to use the product is to fill it up with water and push the button. Once the water is done being distilled, the product will automatically shut-off. Aside from being easy to assemble and to clean up, both the distiller and the carafe are designed with large openings for easy access.
Fair Quality
The distiller is made of a stainless steel body, an aluminum fan, and a shockproof glass. All the materials used in the construction of the product are food-grade and the design makes sure the water is never exposed to plastic.
Efficient Work
Equipped with an auto-off feature and a 750W heating element, you can distill water up to 1L/H, while simultaneously saving money and energy.
Pros:
Comes with a 1-year warranty
Made with the highest quality products available
Risk-free purchase
Cons:
May begin to rust after a year
---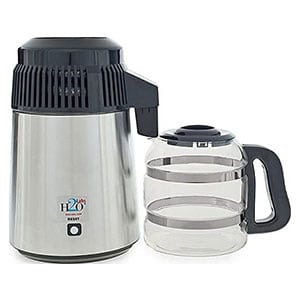 What You Will Love: Everything you could ask for in a water distiller is included in this product. Aside from that, you'll also be given an "Easy-Lift" glass carafe, Cleaning Crystals, and H2O Labs Exclusive Activated Carbon Pods, which will last you a year. A manual is also provided, helping you set up and fall in love with the product upon first use.
With various extra attachments provided, this distiller is fun to use. It is also considered the best in the market in it's class.
Technical Supremacy
Having undergone rigorous testing, evaluated for its dependability, maintenance, design, and quality, this product is easily one of the best available on the market. H2O Labs prioritize customer satisfaction and give special attention to the technical, and financial factors of the Best In Class Stainless Steel Water Distiller.
Specific Design
This Best In Class Stainless Steel Water Distiller by H2O labs is specifically designed to provide you the purest water. With the year supply of activated carbon filter that is provided with your order, you are given 3 times the filtering media which ultimately results in pure water and the effective removal of VOC.
High Quality Material
The Best In Class Stainless Steel Water Distiller is made of 100% Grade 304 stainless steel, which is one of the most versatile stainless grades. It is BPA-Free and Food0Safe.
Pros:
Optimal size
Features activated carbon filter
Stainless steel interior
Made with top-quality materials
Cons:
Not recommended to be used outside of North America
Water might taste a little metallic
---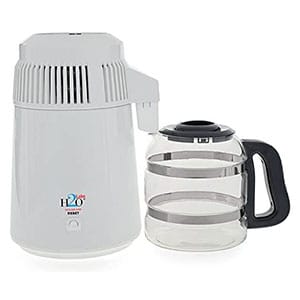 What You Will Love: Customers love this product for the bonus products that are provided, including an "Easy Left" glass carafe, non-toxic Cleaning Crystals, and a year's supply of Carbon Pods. These extras make the use of the distiller much easier and efficient.
Made of a 100% stainless interior, this is a durable item. It is also one of the best in the market, as claimed by satisfied customers.
Best In Class Stainless Steel
This product, alongside the product mentioned above, has been described as the best countertop water distiller in their class by H2o Labs. This is owing to their strict testing and quality control. All products go through a careful economy, quality, and operation checks.
Specific Design
Specifically designed to provide you with pure water, this product also removes VOC's with the utmost efficiency, thanks to the H2O Activated Carbon Pods that are provided.
Top Quality
The materials used in this product are all top quality, with the condensing coil made out of 100% stainless steel of the 304 Grade, which makes it versatile. The plastics used in the product are Food-Safe and BPA Free. The porcelain nozzle in the product ensures that the water does not come in contact with plastic or metal.
Pros:
Optimal, compact size
Easy to use, and setup
Made with top-quality materials
Cons:
Not recommended to be used outside of North America
Water might taste a little metallic
---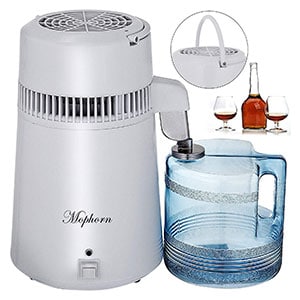 What You Will Love: Customers love the fact that this can be used in both the office and at home, with it being such an easy to use and efficient product.
The smartest water distiller around, with overheat protection and auto shut-off, this product is a powerful and well-designed product.
Simple Design
With an easy setup and cleaning procedure, you don't have to trouble yourself replacing and buying cartridges. The distiller is designed simply with a portable handle and large openings for easy cleaning.
Food Grade Quality
All materials used in this product are 100% good-grade material, with a stainless steel inner tank, water outlet, and a BPA-free container.
Powerful Performance
Equipped with overheat protection and burn-resistant properties, this distiller is a powerful machine of 750W's. The heating elements of the distiller make the distillation speed over ½ gallon/hour.
Pros:
Effectively removes contaminants
Auto-shut feature
Easy use with no plugging/unplugging needed
Cons:
Does not come with a pre-heater
First few gallons might be unsuitable for drinking
---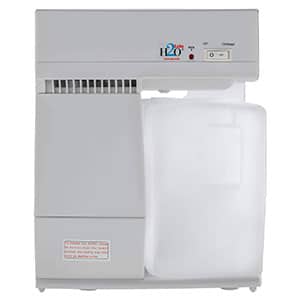 What You Will Love: The convenience of this distiller is loved by customers, being easy to carry, with a modern design and advanced functions not commonly found in most distillers. This specific distiller is a reliable countertop product. This product is loved by seniors and those who have trouble lifting heavy items.
This product is loved by seniors and those who have trouble lifting heavy items as it's an extremely lightweight and easy to use distiller.
Easy Operation
Extremely easy to operate, this distiller comes with an LED indicator and uses the minimal energy required to operate. The LED notifies you when you need to refill and reset the distiller.
Lightweight
Easy to lift, and easy to fill-up, the holding tank of this distiller is very light and has a continuous water-feed valve.
Time Efficient
This product by H2O Labs can process up to a gallon of tap water in 5 hours, and produces 4 gallons of water a day, making it one of the most time-efficient distillers in the market.
Pros:
Saves time
Easy to use
Compact, and portable
Cons:
Unsuitable for usage outside North America
Product can't be returned or replaced
---
What To Consider When Buying A Good Water Distiller For Home?
You are purchasing a water distiller for your home because you wish to only drink the cleanest water and to maintain medical equipment like CPAP cleaner machines according to the manufacturer's direction.
However! You want to make sure you are purchasing the best water distiller that provides great tasting water, is thoughtfully manufactured and meets UL list design requirements.
Stainless Steel Boil Chamber
In order to avoid it from breaking down shortly after purchase, make sure that the boiling chamber is made out of high-quality stainless steel.
While an acidic cleaner is recommended for descaling the unit, you will never be able to put the whole thing in the kitchen sink.
Stainless steel resists rust and is fairly durable, helping your unit to last several years.
Glass Collection Container
The process of distillation works to remove water from the contaminants that are left behind. It makes no sense to have the distilled water, which is now devoid of metals, organic compounds, and carcinogens, dispensed into a plastic container.
A glass collection container can be sterilized between uses and won't leach any compounds back into the water.
Of course, a one-gallon glass jug is heavy, so for everyday use, you will want to invest in BPA free lightweight water bottles that can be handled easily after transferring out of the collection container.
Should Produce At Least A Gallon Per Cycle
In order to live the cleanest life possible, you want to use distilled water for all your daily water consumption needs.
This means the distiller should be able to produce a gallon of distilled water for each cycle that it runs.
Most of them are create about a quart of clean water per hour, so the countertop units are meant to run overnight and during the day while the house is empty.
If you purchase a home water distiller with a smaller capacity, you may be frustrated by running out of distilled water on a regular basis.
A Good Manufacturer Warranty
As with many electronic gadgets, cheap manufacturers located elsewhere in the world are flooding the market with products that won't stand up to the test of time.
It includes a heating element that is meant to run several hours a day, every day.
You will want to make sure that your water distiller is produced by a company that is prepared to offer replacement parts or products if you should encounter any problems.
Must Have Food Grade Gaskets And Seals
Once again, if it is made by an unknown manufacturer, it is important to do some research to ensure that your item stands up to standards created by the FDA.
Seals that are made out of unknown plastics and compounds that come in contact with the boiling chamber can leach nasty flavors into your water, as well as potentially introduce carcinogens into the distillation process.
Check to make sure that the machine states what all parts are made out of to protect yourself.
---
Different Types Of Water Distillers
Household Distillers
Household distillers are usually countertop devices. They are a type of kitchen appliance that looks quite a bit like a coffee making machine and works in a similar way. They have a water tank area that is filled with tap water and then the unit is plugged in and turned on. A heating coil boils the water in the tank.

The steam from the boiling water is captured and cooled, to turn back into liquid water. It then drips down into a container that holds the distilled water.

That water can be used right away for hot drinks or placed in the refrigerator to cool it down even more. Over a period of about an hour, these household distillers can produce about one gallon of distilled water.
Plumbing Distillers
This style of water distiller is incorporated into the plumbing system for a house. There is no need for all the water in a home to be distilled. Instead, a complete home water treatment system creates many grades of water for different uses.

The system uses tap water for things that do not need any water filtration and softeners; such as watering grass. It uses chemically-softened water for washing clothes and dishes. It uses softened water, which is run through a carbon filter to remove chlorine, for bathing.

It uses softened water, run through a carbon filter, that is then distilled for drinking water and ice making.
Commercial Distillers
A commercial water distiller works with the same process dynamics as household distillation units. They are simply larger and can process more water. Some commercial water distillers are able to process hundreds up to millions of gallons per day depending on their size.
Also, don't forget that you can use countertop water filters and faucet water filters if you don't have the budget for commercial setup. The installation process for water filters are rather easier and more commonly used by homeowners.
---
Advantages & Disadvantages Of Having Water Distillers
One advantage of having a distiller is that the equipment is easy to use. Simply set it up properly, place it on a countertop, fill it with tap water, and plug it in.
Some users report benefits that may include improved energy levels, sharpened mental capacity, improved skin tone, help with weight loss, and reduce anxiety or stress.
Results may be different for each person. This is not to be considered medical advice. No specific health claims are made about distilled water and the FDA has not reviewed this information.
If you are concerned about the health issues from regularly drinking distilled water, speak to a qualified medical practitioner.
Some disadvantages include the cost of the energy to run the system and the considerable investment needed to buy the equipment.
There is also the heat produced by a water distillation unit while it is operating. Additionally, there is a need to clean the unit frequently and patience is needed during the waiting time necessary for the distilled water to be produced.
---
Our Recommendation for the Best Water Distiller
If you are looking to start producing distilled water for your family's daily consumption, it truly pays off to invest in a quality unit.
The Megahome Countertop Water Distiller Stainless with Glass is the best water distiller on our list. Though it is an expensive unit, the quality, reliability, and great customer service ends up earning your loyalty and hard earned cash.
However, if you just need a little-distilled water for home maintenance or medical devices, the Tinton Countertop Water Distiller has an economical price point for a fairly solid appliance that should meet most of your needs.
---
Related Articles:
---